Industry: Marketing
Zopto provided us with a great tool, strong results and a wonderful onboarding process, giving us a great opportunity to build upon our existing sales framework. They've also allowed us to expand our social selling framework. Our only gripe would be that it's a bit of a hassle to transfer data from LinkedIn to Zopto, but it's still not really an issue. There are so many advantages to using them that we really can't complain. They basically took our existing approach to lead generation and helped us to level up as though they'd given us a cheat code. Definitely recommended.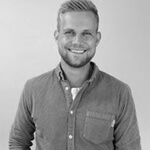 Customer story
Ackermann is Denmark's leading email marketing agency, specialising in creating and curating email relationships between companies and their target audiences. Data driven by default, they pride themselves on creating great content and designing well-thought-out customer journeys that increase conversion rates and support brands.
Throughout the years, they've worked with a number of Denmark's leading brands across a range of different industries, with over 500 total companies as customers.
The challenges Ackermann are facing
The biggest challenge that Ackermann was facing was that they had a distribution problem. They had all of the in-house expertise that they needed to create high quality content, but it was difficult to amplify that and to put it in front of the right people.
They needed a lead generation tool that would fit alongside their existing email marketing strategies to allow them to reach more of the right people with their messaging. The challenge was to find a self-service tool that could be customised to allow them to do exactly what they needed.
Why Zopto?
Zopto was an obvious choice for Ackermann because it had all of the functionality that they needed and would also allow them to put their existing buyer personas to good use. With such a clear idea of who they needed to reach, it would have been counterproductive to work with an agency, which might have brought its own ideas of what their lead generation campaigns should look like. Zopto allowed them to take their own destiny into their hands and to carry out campaigns that did exactly what they wanted them to do.
Ackermann's growth and how Zopto plays a role
Ackermann was already growing without Zopto, but their adoption of the platform meant that they could quickly and easily scale up their lead generation campaigns, running multiple ads targeting different audiences with different messages. The result was a much more professional, streamlined and effective approach to LinkedIn marketing that could work alongside their email marketing expertise to provide them with as many quality leads as they could handle.