Industry: Recruiting
I'm much more productive thanks to Zopto. I love the product and wish that I'd found it years ago. It enables me to automate many of the functions of my role, allowing me to double – and maybe even to triple – my output. I've not been using it for long, but I'm already impressed by its performance and can't imagine going back to doing my job without it. Let's hope they keep up the good work!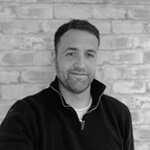 Customer story
Jenrick Technology makes it their mission to enhance access to top talent for companies that are too time-pressed to look through dozens of CVs and interview notes. They take on the challenge of recruitment and help to make sure that when companies are looking to recruit, they have the perfect person lined up for them straight away.
They work across the IT sector, helping growing businesses to source skilled technical staff whether they're infrastructure specialists or software development agencies. They cover the technical stuff so that their clients don't have to.
The challenges Jenrick Technology are facing
As a company that specialises in recruitment, Jenrick knew all about the challenge of reaching the right people with the right message at the right time. Marketing and recruitment have a lot in common, but they also differ enough that it can be difficult to move from one to the other.
At the same time, they had enough expertise in-house to know the types of people that they wanted to reach out to. They just needed a tool that would allow them to take their own destiny into their own hands, allowing them to launch and manage lead generation campaigns with ease.
Why Zopto?
Zopto was the perfect tool for Jenrick Technology because it gave them the functionality that they needed without expensive overheads or requiring them to work with an agency. There was no need for extensive training and they were able to create their own audiences and to deploy different messaging depending upon who they were talking to. They could also prioritise different types of audience depending upon seasonal and other spikes in the availability of certain types of jobseeker.
Jenrick Technology's growth and how Zopto plays a role
Zopto played a key role in Jenrick Technology's lead generation and marketing efforts by combatting the inherent restrictions that come from advertising on LinkedIn. The customer was able to put Zopto to use for business development outreach while they sourced, or vice versa. The success of the campaigns, along with the accompanying sales figures that the Zopto outreach were able to generate, were enough to show the client that Zopto could pay for itself.