Industry: Marketing
Zopto is a great tool for leveraging LinkedIn as a business tool. It's pretty much perfect and I was happy with every aspect. It really changed my relationship with LinkedIn and Sales Navigator. I liked the ease of use and how easy it was to set up LinkedIn automation. This is the not-so-secret tool to make the best use of business contacts on LinkedIn and to acquire new leads in a human and authentic way. Though it's automated, you still keep control over what you post, as well as all of the follow-ups, with no automatic replies.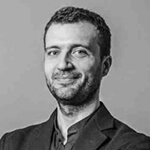 Customer story
Arkage helps companies to make sense of the post-digital world, using data to turn numbers into insights that are understandable to humans. Their goal is to help companies to make friends with machines and to make the smart use of technology second nature.
Arkage makes technological adoption easier for their customers and clients, allowing them to change the future for the better. Ultimately, they can help people to take advantage of the whole suite of new competencies that are available in today's post-digital business landscape.
The challenges Arkage are facing
For Arkage, the biggest challenge was finding the right people. They had a good idea of who they needed to reach thanks to their existing pool of customers, and they also had well-developed messaging and the ability to create high quality marketing materials in-house. What they lacked was a way to easily reach people at volume without compromising engagement rates or wasting money putting their messages in front of the wrong people.
Why Zopto?
In Zopto, Arkage spotted a company with a similar approach to them when it came to using data to uncover actionable insights without any need for technical jargon and other obstacles getting in the way.
Zopto particularly stood out because of how it integrates fully with LinkedIn, allowing Arkage to launch its own campaigns on the world's premier business social networking site. It fit right in with the company's ethos and allowed them to take advantage of big data to make their marketing smarter, more targeted and more powerful.
Arkage's growth and how Zopto plays a role
Zopto plays an important role in Arkage's continued growth by providing them with a way to easily generate leads at volume, as and when they're needed. They can pause campaigns and restart them at will, moving budget around to best make use of it, and they can adapt quickly to make decisions based on data instead of gut feeling.
With the campaigns that it's created, Arkage can take its destiny into its own hands, effectively taking on the power of an external marketing team but at the price of a single tool. This allows them to level up their approach to marketing and to bring in as many leads as they need to keep growing at a pace to suit them.