Choose a plan
that's right for you:
No matter your business needs,
we have a solution to help you scale.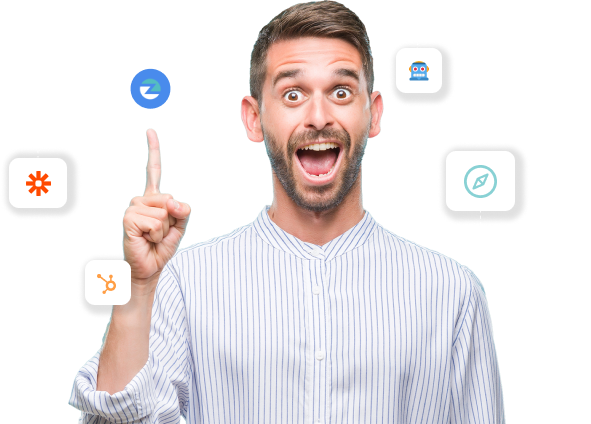 Customer Success Manager
Easy set-up
Cancel anytime
Compatible with
LinkedIn
Sales Navigator
Recruiter
Save 20%
GROW
344 USD
per month
2 accounts included
Agency & Enterprise
860 USD
per month
5+ accounts included
Info
Each Zopto account includes
these powerful features
Dedicated Customer Success Manager
Auto profile views, follows, endorsements, post liking
AI-assisted follow-up messages
Image & GIF personalization through Hyperise
Email: enrichment, verification and invites
Smart LinkedIn post engagement
LinkedIn post scheduler
Campaign A/B testing
CSV import campaigns
Zapier integration and API access
CRM integration: Hubspot & Salesforce
Campaigns that invite people to events and webinars
Generate campaigns from: groups, events, webinars and "who's viewed your profile"
Robust and secure technology that responsibly uses LinkedIn's API
Frequently Asked Questions
Since LinkedIn limits the number of your profile views and profile searches on a free account, you will need to upgrade to a paid LinkedIn account to fully benefit of Zopto features. We recommend LinkedIn Sales Navigator as the filtering options are superior to LinkedIn Premium.
There is no long term commitment with Zopto. You can upgrade, downgrade or cancel at anytime. Upgrades and downgrades take effect immediately. The new monthly rate begins at the start of your next billing cycle.
Zopto has no limitation on the language of your LinkedIn account or the language that you use to connect with prospects.
Zopto's Linkedin Automation Tool is not another Chrome extension that you need to install in your browser, but a cloud-based software that allows you to fully automate your LinkedIn outreach campaigns, without being dependant on your device or internet connection.
GDPR doesn't affect the LinkedIn outreach and messaging campaigns so whilst your other marketing communications could be severely curtailed, Zopto ensures that you can run fully compliant campaigns.
Each profile and business is different. However all businesses need exposure, visibility and to stay in front of their ideal prospects. The look back rates that we're seeing can range between 2-14%, with an average of 9%. Many of the people who look back at your profile will also send you a connection request but can also visit your website and engage directly with you. By using the Auto-Connect, Free InMails or Sequential Messaging feature, you'll be able to continuously reach out to new prospects, all on auto-pilot, which will guarantee a steady stream of leads every day.
When you activate Zopto, you'll be asked to link your Zopto account with your LinkedIn one. If you wish to add more Zopto users, you can simply do that from your dashboard. This will immediately give you access to a multi-user dashboard.
Yes, we offer a white-label solution for agencies that have more than 5 active accounts. You can learn more about our plans and available discounts by clicking agency plans.
There are many options in the market, so we get asked this question a lot. Aside from having a robust set of features and the most intuitive platform in the market (according to our users), we pride ourselves on our technological setup and architecture that utilizes LinkedIn responsibly, decreasing your chances of getting a warning or restriction. We also offer a dedicated Customer Success Manager, a large knowledge base, and unlimited live chat support that caters to most time zones.
Much of your success comes down to how you use Zopto and your own strategy. This is why we offer free and unlimited Customer Success to help ensure you have a full understanding of all features available to you, along with best practices, to optimize your success. Using Zopto, you can be sure to increase your brand awareness, engage with your existing network, and open conversations with your target audience - all while saving an immense amount of time and effort.
Each Zopto account is tied to one LinkedIn profile. You can add additional users to run campaigns on more than one profile at a time. This is an excellent way for large sales team to procure and manage campaigns from one centralized location. That said, we strongly disapprove of using fake or alias accounts. Any account you plug into Zopto should be a real person's profile.
Yes! We offer fully customizable white-label solutions for agencies or enterprises with more than five active accounts. You can learn more about our plans and pricing by clicking on the Partners page, located in the menu bar. We also offer custom pricing above a specific seat count.