Industry: Finance
I highly recommend Zopto, and for a variety of different reasons. It's user-friendly and simple to use, and the support team is great. I can't find a single thing that I dislike, and because it has all of the features and functionality that we were looking for, there's not even anything that I'd want them to add. All in all, I'm very happy with the campaign that we ran with Zopto and I'm excited to keep on using it to grow our business throughout 2021 and beyond.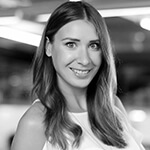 Hayley Clucas
Head of Marketing
Customer story
Caspian Insurance is the UK's leading life insurance agency, and they pride themselves on their personalised approach in which they go out of their way to understand people's individual needs before recommending whichever products are best suited to them. This includes carrying out market comparisons to ensure that their advice is unique every time.
They appreciate that sorting out life insurance can be daunting and difficult, and so they make it their aim to empower people to feel more confident when setting up financial protection. The result is an easy to use insurance company that takes the headache out of finding a little peace of mind.
The challenges Caspian Insurance are facing
The main challenge that Caspian Insurance was facing was that they needed a way to get in front of people and to introduce the company and what it does. This spanned a range of different contact types, from potential customers who might be interested in life insurance to potential partners and providers. That meant that they needed a tool that they could use to reach a variety of audiences with a variety of messages. That's where Zopto came in.
Why Zopto?
Caspian Insurance decided to give Zopto a try because they were struggling to build connections in the right industries and they wanted to find a way to better harness the power of LinkedIn, the world's largest professional social network. They'd spent a lot of time looking at the different tools that were on the market and arrived at the conclusion that Zopto best suited their needs, offering all the functionality they needed to reach out to a variety of audiences with different messaging.
Caspian Insurance's growth and how Zopto plays a role
Zopto acted as a much-needed go-between for Caspian Insurance and the people that they wanted to reach out to. They were able to use Zopto to build connections in the relevant industries, and they also found that the engagement they received on their messages had improved greatly. This combined to make Zopto a vital lead generation tool for the company, allowing them to scale up at a faster and more sustainable rate than ever before.