by Devanny | March 26, 2021
What is Hyperise?
Not getting the results you are looking for with your outreach campaigns? Struggling with your click-through rate on your LinkedIn lead generation efforts?
You know that personalized outreach campaigns work much better. Indeed, according to Hubspot, personalized CTAs outperform basic CTAs by as much as 202%. But it takes forever to build the campaign, source, and embed images and videos. 
Not with Zopto and Hyperise. By integrating Zopto's LinkedIn lead generation platform with Hyperise, building outreach campaigns with personalized images and videos is now easier than ever. 
The Zopto-Hyperise integration is a game-changer. Hyper-personalize your outreach campaigns and benefit from a better-than-average ROI – the perfect integrated tool for any marketer.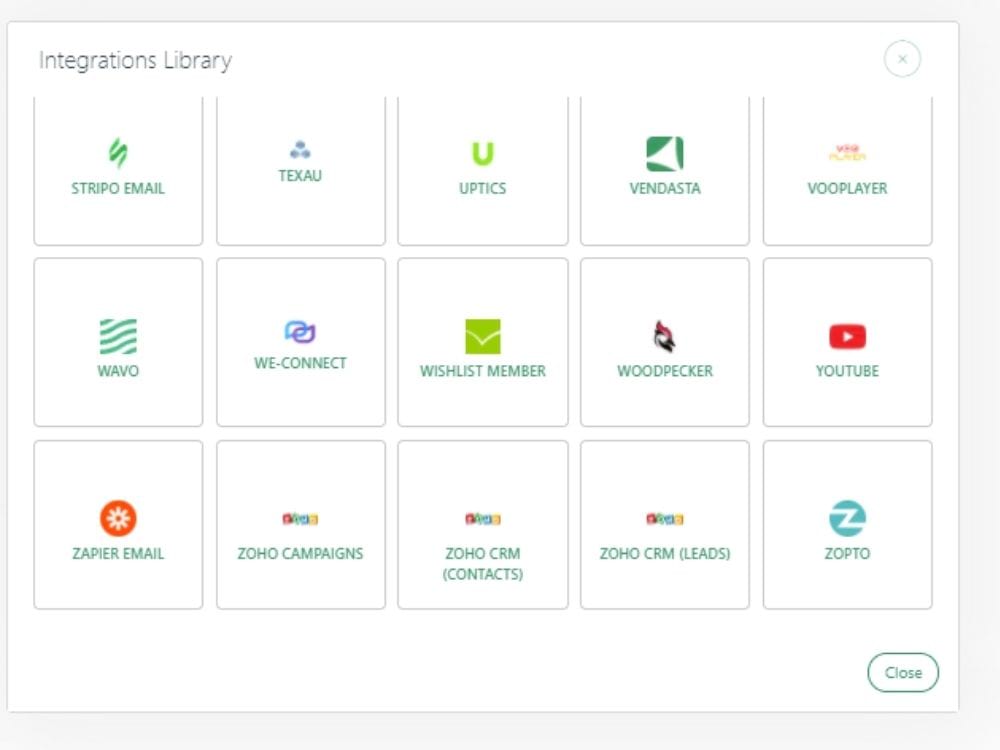 What Are the Benefits of Integrating Hyperise with Zopto?
Zopto is a high-performing LinkedIn lead generation automation tool that enables marketers to create and manage online campaigns that tap into new LinkedIn contacts and generate leads.
The Hyperise platform allows the addition of personalization to images, videos, text, and other forms of marketing. Marketers are able to automatically apply personalization features from their prospect data via Zopto, adding prospects logos, website screenshots, full names, and company details.
Creating a personalized LinkedIn lead generation campaign has never been this easy. In your Zopto account, create your outreach campaign and save it. Then click on the Hyperise link to go to the Hyperise platform.
There are hundreds of built-in images available in Hyperise that you can personalize according to your marketing outreach campaigns. 
Select the image in Hyperise that you wish to use in your Zopto LinkedIn lead generation campaign.

Build and personalize the image according to your specific marketing strategy goals using Hyperise's online tools.

Once you're happy with the image, click on

Save

.

Return to your Zopto campaign and click on

Templates

, which will list the Hyperise images.  The image you have personalized in Hyperise will be at the top.

Select the image to add the personalized image template to your Zopto campaign.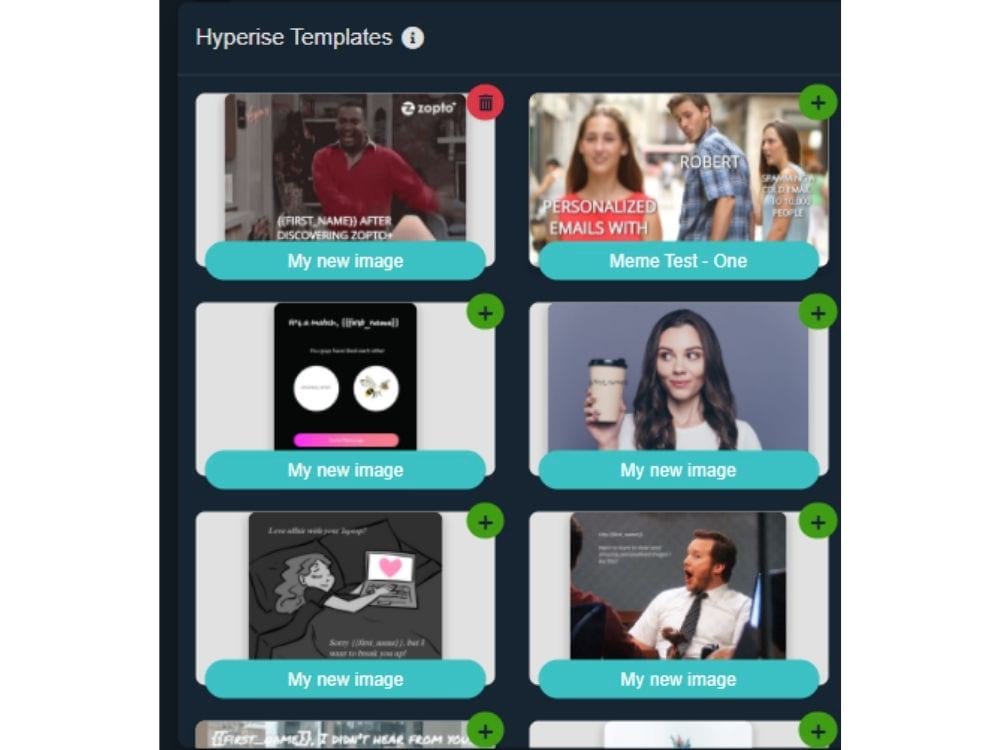 If you don't want to use one of Hyperise's stock images, you can upload and personalize your own image. 
Go to your Hyperise account and click on

Select an Image

. Choose the image of your choice from your files. Then click on the image on the Hyperise platform.

Using Hyperise's variables, you can create highly-personalized images in the same way as stock images. 

Drag and Drop

the relevant actions from the list on the left-hand side of the image. There is a wide range of variables and personalized actions you can add to images and videos within Hyperise.

Name and save your image, then return to your Zopto account to add your personalized image to your Zopto campaign template.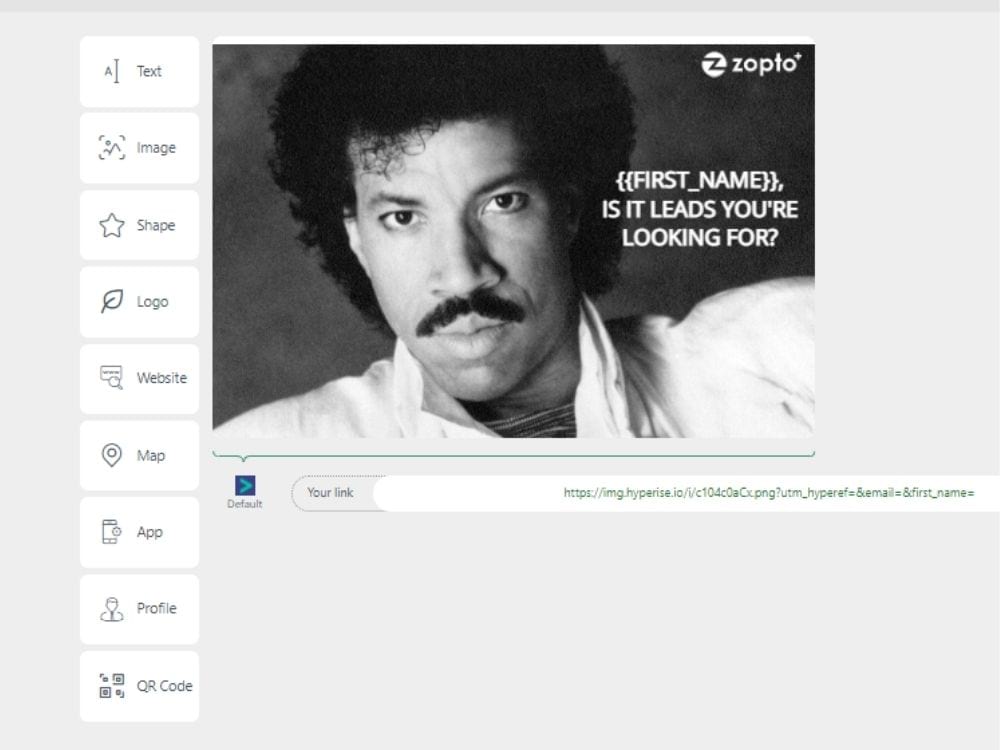 You are now ready to send your outreach campaign. In your campaign settings, select the variables that you've included with your Hyperise personalized image. Click save and check that the right image is embedded into the right campaign. 
Remember to conduct A/B split testing to find out which images and which variables generate the best click-through rate and ROI.  Hyperise allows marketers to see which images have performed better than others via an easy-to-use dashboard. They are also able to analyze the impressions for website images, text, and call-to-action (CTA) buttons. 
Hyperise is a huge differentiator in LinkedIn lead generation campaigns, transforming reams of text into highly-personalized, attention-grabbing images and videos.
The benefits of integrating Hyperise with Zopto include:
Add

text layers

including Firstname, Lastname, Company Name, Job Title, Website, and Address.

Add

profile images

of your prospects from your Zopto campaign data or use Hypervise's data enrichment service to automatically add from an email.

Automatically add your prospect's business logo to your images from their website domain or their email.

Add the pinned location on a map of your prospect.

Add a

QR code

to your images, personalized to each of your prospects, to enable the tracking of scans when the image is printed, and personalization of landing pages.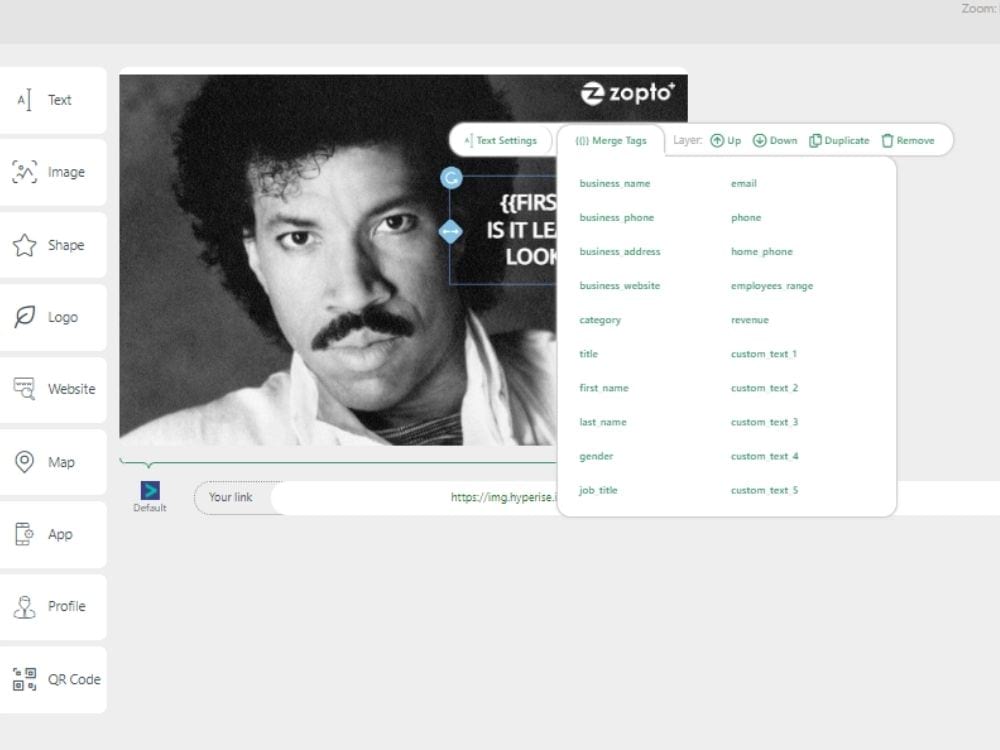 Integrating Zopto with Hyperise, marketers are able to better align their marketing strategies with the LinkedIn lead generation campaigns by sourcing new leads, drilling down into lead details. Hyperise can be integrated with a wide range of marketing tools that many marketers are already using.
How to Use the Hyperise Integration
In just a few simple steps, you will be ready to hyper-personalize your outreach campaign images and videos. 
To integrate Hyperise with your Zopto account, firstly you will need a Zopto account and a Hyperise account. Then you will need to create your Hyperise token to integrate with Zopto.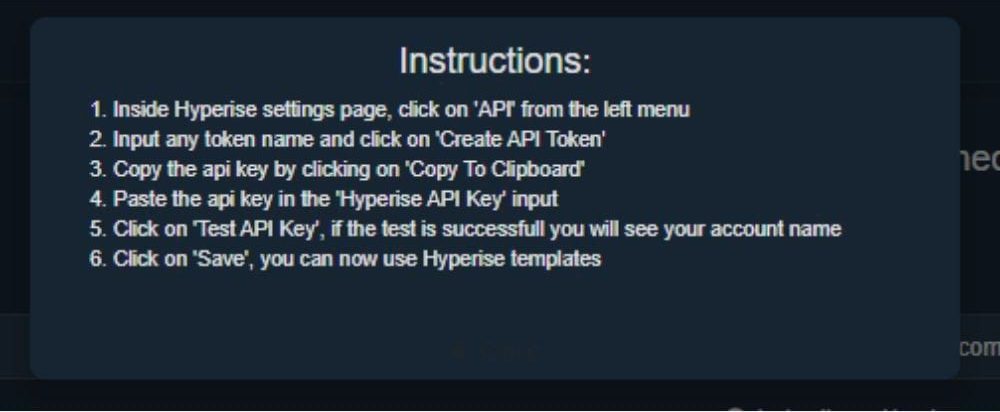 Step 1 – Login to your Hyperise account and go to the Settings menu.  Click API on the left-hand side which will display a CREATE API TOKEN box at the top.  Type in a name for your token, i.e. Hyperise-Zopto Campaign One, then click on the Create API Token button.
Step 2 – Highlight your API code and click on Copy to Clipboard.
Step 3 – Login to your Zopto account.  Click on Settings and scroll to the bottom of the page to the Hyperise API Key box.
Step 4 – Paste your API key into the box.  Click on the Test API Key button and then click Save. 
Once saved, the integration set-up is completed. 
When you are ready to create a new Zopto campaign:
Go to your

Hyperise

account to view all your images. 

Select the image you wish to use to add it to your campaign.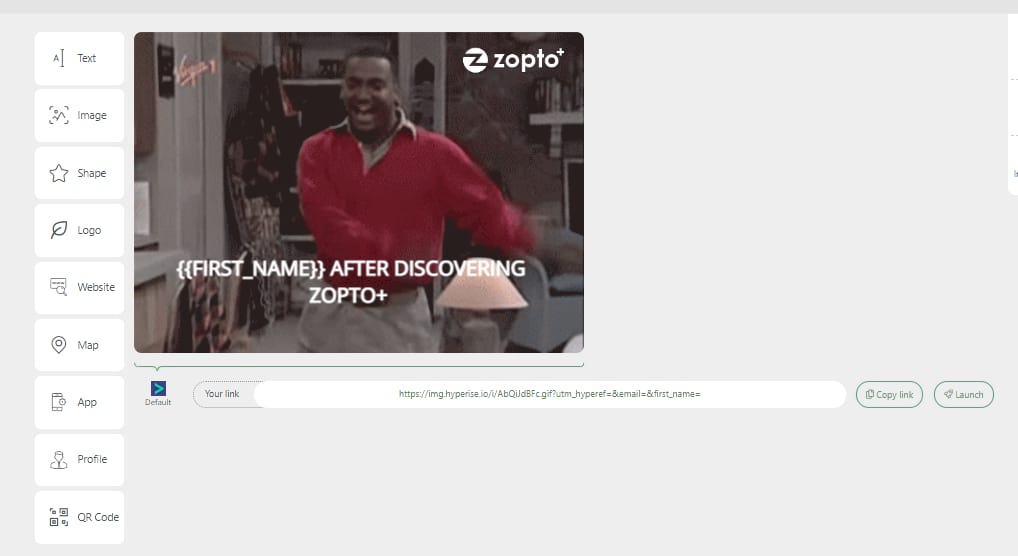 The personalized image will be embedded into each prospect's message using the data in their Zopto profile.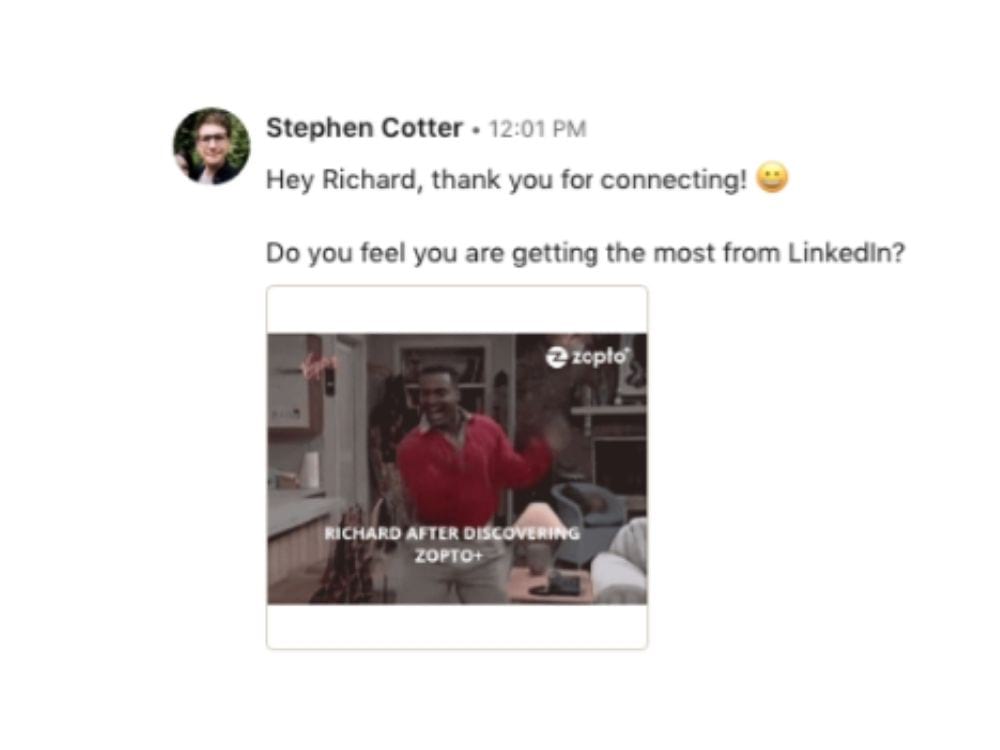 How Does Hyperise Fit into Your Strategy?
Any lead generation campaign, be it online or offline, needs to generate leads. Setting campaign goals and objectives for your Zopto LinkedIn activity provides a clear picture of the aims of the campaign that are specific and measurable.


Email – personalized emails deliver 6x higher engagement.  All Zopto email campaigns can be hyper-personalized and automated. However, when creating personalized images for LinkedIn, marketers need to consider the size of the image.
Note – when using Zopto's LinkedIn messaging platform, it's unlikely you will have the prospect's email address, business logo or available website screenshots.  Enable
Video – interactive videos can be personalized to include buttons that link to external websites or landing pages. 
Go to the relevant web page that you want to add the video to and add the

Website Personalisation Toolbar

. 

Click on the website image, video, or text that you want to replace to display the

media selection box

. 

Select the

video tab

and choose the video you want to add.  A thumbnail of the video will be displayed.  When replacing a DIV element with a video, a blue line around the element will be seen. 

 

Right-click on the selected area and choose

Replace Content

.  The media selection box will be displayed. 

Select the

Video tab

and choose the video you want to add.

To connect your email message to the website page with the personalized video, select

Hyper-Campaign

and choose an image from your integrated Zopto account.  Click on

Launch

to start your Hyper-Campaign.  Add the URL of your landing page and complete the

Wizard set-up

. 
Once completed, there will be two options available – Combined and Link.  These are code options that you can add to your Zopto message template and link to your web page.  These options 'push' the new personalization through to your website or landing page, and the personalized video.
Ads – add personalized images and QR codes to offline and online ad campaigns.  Monitor, track, and measure activity.
Chatbots – Hypervise integrates with a variety of chatbot platforms, such as Landbot, ActiveChat, ManyChat, and ChatFuel.  You can also personalize Facebook Messenger, Slack, Telegram, WhatsApp, and Twillio. 
Direct mail – connect your offline marketing strategies and print campaigns with your online activity using personalized QR codes.  The QR code scans each prospect's activity, enabling marketers to see which offline campaign is working and adjust accordingly.
Social outreach – add personalized images, text, CTAs, and videos to LinkedIn and Facebook messages to your Zopto outreach campaigns.  Automatically personalize video cover images to your YouTube videos and vooPlayer, and embed personalized images into videos that can be tracked.
Integrating your Zopto LinkedIn lead generation automation tool with Hypervise enables marketers to personalize their offline and online campaigns is a game-changer for marketers, leading to highly-personalized, targeted campaigns and a higher level of new leads. 
New to Zopto? Get an overview and see how it can help transform your lead gen efforts in our post on running a campaign in Zopto.
Browse By Topic

Attract hundreds of hot leads by targeting your ideal customers on LinkedIn!
Get Demo