by Devanny | October 7, 2021
LinkedIn is the best platform for connecting with clients, staying up to date with industry news, and growing your business.
But with over 774 million users, how do you know who to follow?
If you don't follow the right people, your B2B marketing efforts on LinkedIn become diluted and your conversion rates won't be up to par. 
On the other hand, if you do follow the right people, you'll have an engaged, large pool of potential customers that are much more likely to respond to your outreach campaigns. 
In this post, we'll show you the best people to follow on LinkedIn, and how to use these new follows to supercharge your lead gen efforts. 
Want to know how to scrape data from LinkedIn and use it to improve your outreach campaigns? Check out our guide where we show you how. 
Why Follow People in Your Niche on LinkedIn
When it comes to being strategic on social media platforms, growing your network on LinkedIn should be one of your goals as a B2B company. Following people in your niche is a great way to expand your network and get to know someone before you connect with them. 
By following potential clients, it gives you a chance to become known to them before you begin outreach.
When you build that trust by liking and commenting on their high-quality content, they're going to be much more receptive to outreach campaigns in the future.
You also might follow someone you think is your ideal client, only to find they're not a great fit once you interact with them. This saves you the trouble of wasting time on outreach and you can quietly unfollow them with no hard feelings.  
Following influencers in your niche
When it comes to influential people on LinkedIn, following them comes with a different set of advantages. 
You're unlikely to form a close connection with someone who has thousands of followers, but you do get better access to their audience (which should be filled with your ideal clients). 
You can find clients and establish yourself as an expert in your niche by interacting with posts, comments, and giving real value.
The key is finding the right people to follow to make sure your efforts aren't wasted on the wrong people. 
How to Choose Who to Follow on LinkedIn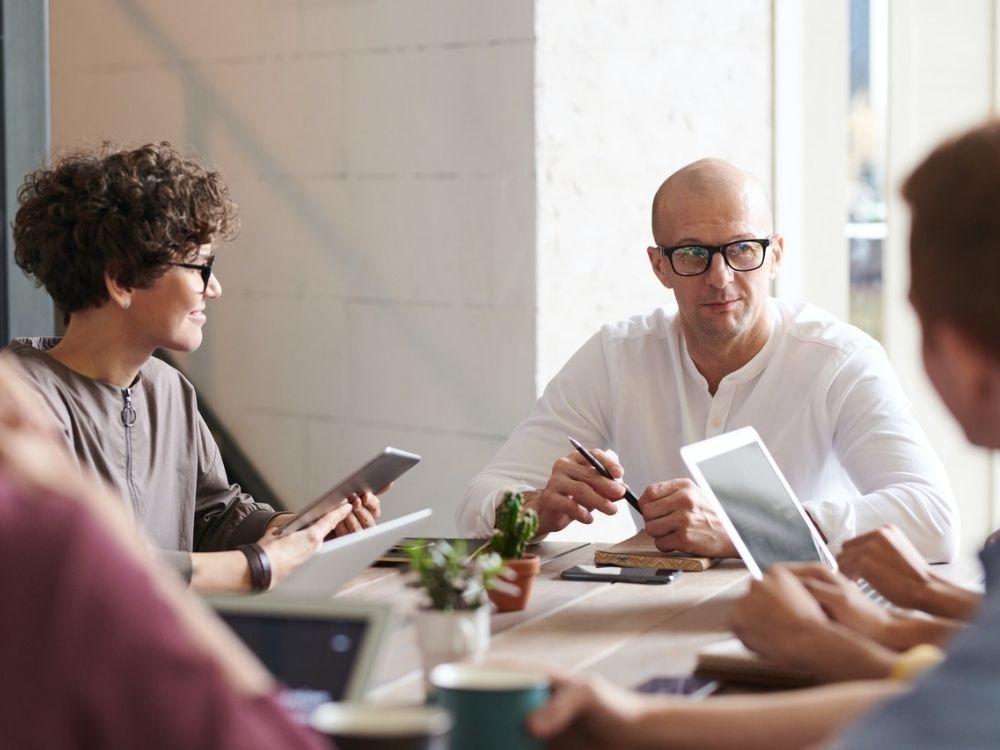 There are influencers in almost any B2B industry sharing their knowledge and insights on LinkedIn. 
It's best to find the top influencers to follow in your industry as well as local micro-influencers and industry leaders. 
This way, you'll have better access to a nationwide network of people in your industry, but you can also build local relationships quicker. 
Based on your industry
Let's take a look at some of the key influencers in some different B2B industries. Figure out which niches your ideal customers are interested in and follow influencers dominating those niches.
Sales 
B2B sales is a broad niche, but almost every B2B business is going to want expertise on sales. So these are some great sales influencers to start with:
Trish Bertuzzi, The Bridge Group

Gaetano DiNardi, Nextiva

Lori Richardson, Score More Sales

Dale Dupree, The Sales Rebellion

Keenan, A Sales Guy Inc.
Finance
If you offer financial services to your B2B customers, finance influencers are perfect. Users follow financial influencers for advice and knowledge, so you can easily establish yourself as an expert by interacting with these accounts regularly:
Vikram Mansharamani, Lecturer, Yale University

Pascal Bouvier, Investor and fintech expert

Geoffrey Garrett, Dean, The Wharton School

Ben Casselman, Chief economics writer, FiveThirtyEight

Tamal Bandyopadhyay, consulting editor, Mint
Tech
There are a lot of sub-categories in the tech sector, so do some research and narrow down your search for the best influencers to really tap into the right audience. Here are some of the best accounts in the space to start with:
Manu Goswami, CEO SuperFan Inc.

Lisa Seacat Deluca, Distinguished Engineer with IBM Watson Internet of Things

Naomi Simson, Co-Founder Big Red Group

Tim O'Reilly, Founder and CEO O'Reilly Media

Marques Brownlee, Web Video Producer
Supply chain
If your business focuses on supply chain management or optimization, following these supply chain influencers is going to give you a direct line to customers who are actively looking for your services:
Lora Cecere, Founder at Supply Chain Insights

Yossi Sheffi, Director, MIT Center for Transportation & Logistics

Radu Palamariu, Connector | TOP TALENT Scout in Supply Chain

Daniel Stanton, Mr. Supply Chain®

Dr. Muddassir Ahmed,  Supply Chain Strategy, S&OP Expert and Founder SCMDOJO
It's easy to find the top influencers in any B2B industry with some quick research. The key is to check out the profile and make sure the LinkedIn influencer you're planning on following has an audience you want to engage with. 
Based on your location
Digging a bit deeper and finding local business leaders is also a good strategy for LinkedIn. Whether you offer local or nationwide services, establishing yourself as a true leader in your area will help build your company more quickly. 
Find local business groups to join first. If they're also centered around your niche that's even better – but any local business groups will help get your brand name recognized. 
It can be a little harder to find local business leaders, but do a search on LinkedIn using your location parameters and key industry terms to find the best ones to follow. 
Just like a major LinkedIn influencer, these people will already be speaking to your ideal clients, so you can use their platform to build up your own reputation. 
Automate Follower Outreach
It takes time to find the right people to connect with on LinkedIn, and although it's an important social media marketing strategy, it does take time away from more important sales and service tasks. 
With Zopto, you can automate the process of connecting with potential prospects, helping to increase connections and followers on autopilot.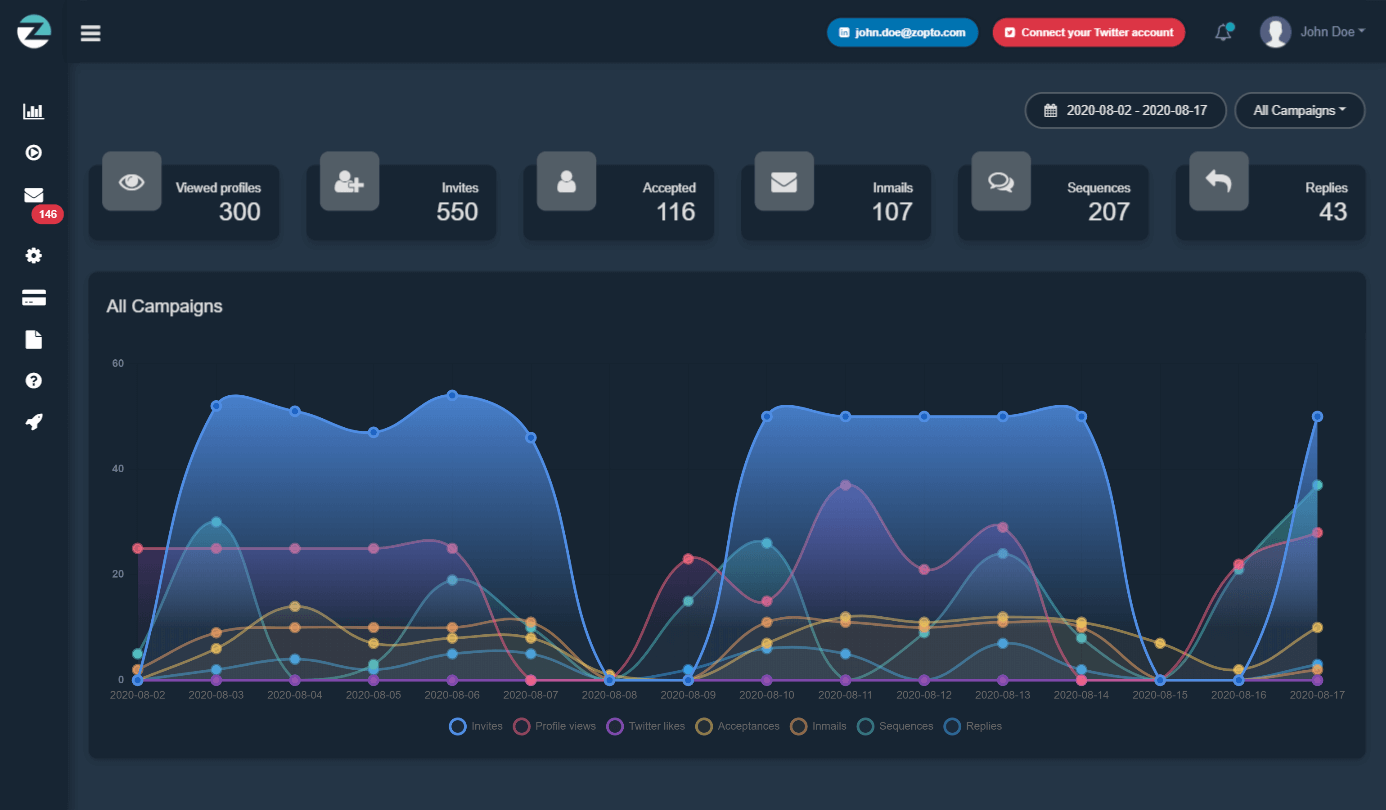 Once you've set up your parameters, Zopto will find the best users to connect with to help you build a valuable network of industry leaders and ideal clients.
You Have a List of People to Follow, Now What?
It's not enough to simply follow new people on LinkedIn. You need to take steps to engage with your new followers to see real results.
Once you've followed someone new, here's what you need to do next:
Engage with them and build relationships
Make an effort to like their posts, comment your genuine opinions on their LinkedIn Pulse content, and share their work when it resonates with you. 
People can always tell when others are being fake in their engagement, so take the time to genuinely engage and build relationships with those you're following. 
This has the added bonus of making your brand show up consistently in notifications, which helps establish trust with your followers.
Engage with their audience and be helpful
Find posts from people you follow with a lot of engagement and engage with their followers. Answer questions left in their comment section and reach out to give free value to people. 
The key here is to give help and value away with no strings attached. People don't want to hear your sales pitch, so don't use this as an opportunity to promote your products or services. 
Instead, build a reputation as an expert by giving expert advice and clients will begin coming to you.  
Earn a reputation for your specific skill
Try to focus on your area of expertise when you connect with people – this will help build your reputation much more quickly. 
When you dilute your engagement and give advice or guidance outside of your niche, people won't know what to recommend you for.
However, if you focus on a specific skill or niche and build up your reputation for just that, you'll start getting recommendations from people who haven't even worked with you before since you'll be known as the go-to person for that need. 
Optimize Your LinkedIn Profile for Lead Gen
There are so many great opportunities to harness the power of LinkedIn to boost your lead generation efforts. 
Building up a network of ideal clients might take some time, but following the right people on LinkedIn builds trust and brand awareness. This is the foundation of building a business that becomes a household name with a  consistent stream of clients coming through the door.
Want to know another trick to help boost your lead gen efforts on LinkedIn? Find out how to become a LinkedIn LION to rapidly grow your network.  
Browse By Topic

Attract hundreds of hot leads by targeting your ideal customers on LinkedIn!
Get Demo