Industry: IT & Services
What can I say? Generating quality leads is key to driving new business. Time is money, and Zopto gives me time to plan around connecting with the right person at the right time with the right message. I wouldn't want to be without it now! I haven't integrated Zopto with my current CRM system yet so that does need to be looked at, but I haven't found anything that would enhance my experience just yet, although I'm still an early adopter so things might change as I use it more and more!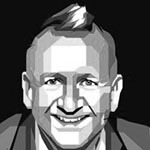 Adam Hurst
Head of New Business
Customer story
CloudCoco has built a business out of revolutionising the cloud and connectivity industry. Their fresh approach relies on modernising companies' infrastructures and providing powerful, customer-focused digital solutions to help them to achieve their business goals.
Their mission is to bring the cloud and connectivity market into the 21st century by removing problems like a lack of flexibility, slow response times, high costs and constant complexities. By doing so, they're able to help their customers and clients to streamline their processes and to build more efficient and more profitable businesses.
The challenges CloudCoco are facing
The main challenge for CloudCoco was to find a tool or a system that would allow them to effectively generate large numbers of qualified leads in a short period of time. The tool needed to be affordable and easy to use, and it also needed to be fully scalable so that the company could run as many ad campaigns as they needed to while adjusting budgets as necessary to ensure peak performance.
In particular, speed was of the essence, and so they needed a self-service tool that they could get up and running within minutes. The goal was to build a full scale lead generation system as quickly as possible so that they could immediately start benefitting from the results.
Why Zopto?
In the client's own words, "As a bolt-on product to LinkedIn, Zopto is the only way forward! It's easy to use and once you've set up your campaigns, you're good to go. Interacting with new prospects isn't as easy with other systems, especially when you're using more than one of them, but using Zopto allows you to manage them all through one platform."
CloudCoco had a clear idea of what they needed and Zopto was the best tool on the market to help them to achieve that. After viewing some testimonials and learning more about the software, they decided to give it a go – and they haven't looked back since.
CloudCoco's growth and how Zopto plays a role
Zopto has already played a crucial role in CloudCoco's growth by allowing them to tap into a virtually limitless supply of leads and to build their client base as quickly and efficiently as possible. As the company grew through the new leads that came in, they also had the option of consolidating their existing client-base or continuing to grow through taking on new clients and new team members. Zopto now functions essentially in place of a marketing department, bringing in qualified leads through LinkedIn that CloudCoco can follow up with its sales team and turn into customers who can benefit from their fresh take on corporate infrastructure.