Hope Investment Holding Ltd

Industry: Investing
I'm new to LinkedIn, and so Zopto is a fantastic overall tool for me. The provision of an customer success manager makes a huge difference, and I haven't heard of anyone else doing that. The fact that Zopto is so easy to pick up and start using was a pleasant surprise for us as we're still relatively new to using LinkedIn for lead generation. If the early results that we've seen are anything to go by, Zopto is going to help us to scale our company in the years to come!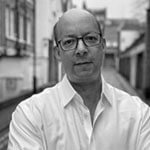 Christopher Hope
Investor
Customer story
Hope Investment Holdings Ltd. was created by a corporate finance adviser and consultant who's worked with SMEs for over twenty years. With a background including serving on the Board of Kurdistan Development in Iraq, the company is now actively investing in companies around the world, but with a particular focus on the United Kingdom.
Sector agnostic, Hope Investment Holdings Ltd. has active investments in various areas around the world and is always looking to make more. That's what brought them to Zopto.
The challenges Hope Investment Holding Ltd are facing
The main challenge that the company was facing was the need to generate new leads without bulking out the marketing department and taking on large numbers of new employees. The goal was to find a LinkedIn marketing tool that existing employees could use on a self-service basis, generating leads for their sales team to follow up with as needed. At the same time, they were also looking for a tool that was easy to pick up and start using with no extreme learning curve.
Why Zopto?
Zopto met a range of different requirements for the company, from the fact that it's a cloud-based system to the way that it's multi-functional and supports multiple different campaigns at the same time. Support was also a major concern, and so the fact that Zopto provides a dedicated customer success manager was a key factor in the purchase decision.
For Hope Investment Holding Ltd, the only downside was that Zopto is a mid-tier provider in terms of pricing. However, they also knew that people get what they pay for, and they were willing to make an investment if it meant their lives would be a little easier.
Hope Investment Holding Ltd's growth and how Zopto plays a role
Zopto fulfilled exactly the role that Hope Investment Holding Ltd. was hoping for, providing a reliable source of inbound leads that could be turned on and off at will. With an easy-to-understand user interface and a cloud-based platform that could be accessed anywhere and from any device, Zopto allowed any employee to jump in and make changes on the fly.
This, combined with the ability for Hope Investment Holding Ltd. to create and run multiple campaigns simultaneously, had the effect of levelling up their approach to marketing and lead generation. It also allowed them to establish a new process that's more in-line with modern marketing best practices.