Industry: Marketing
Zopto is great! It's easy to use with a sleek interface and easy reporting and integration. It's a little more expensive than the competitors, but it's still a 5/5 for value for money and I'd 100% recommend it. Zopto has already made a big difference to the way we carry out our marketing, and we're excited to see where it takes us in the months and years to come. If these early results are anything to go by, the only way is up!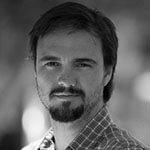 Daniel Burns
Founder and CEO
Customer story
Founded by strategist and lead project manager Daniel Burns, the DBurns Agency specialises in working with corporations to fuel their growth through the use of marketing strategies and technological resources. In particular, they have a focus on website design for clients in and around Los Angeles.
Daniel grew up in Brazil and graduated from the University of Miami. As well as accumulating 20 years of experience in the industry, he's sailed across the Atlantic and biked across Europe, experiences that taught him to think laterally and which enabled him and his team to turn stakeholder expectations into successful digital strategies.
The challenges DBurns Agency are facing
Daniel himself has faced many personal challenges, but his agency's challenge was one of the biggest of them all. They needed to find a way to bring in a reliable source of leads from their tightly defined geographical target areas, and they also needed to be able to take the creative lead so that they could more accurately reflect their brand and messaging.
DBurns Agency also worked with a number of clients who could also benefit from lead generation services, and so it would be advantageous if they could find a tool that they could use for their clients, as well as for themselves.
Why Zopto?
Zopto matched the majority of DBurns Agency's criteria, allowing them to manage and deploy their own LinkedIn campaigns while still maintaining creative control of both the visuals and the messaging.
DBurns Agency also chose Zopto because it allowed them to set up multiple campaigns to cover different target audiences and different clients. While they were looking for a tool that could help them to grow their own business, Zopto provided something that they could offer to clients as a value-add.
DBurns Agency's growth and how Zopto plays a role
Zopto has helped DBurns Agency to grow by bringing in a reliable source of high quality leads for their sales team to follow up with. It's essentially introduced their brand to the perfect potential customers, acting as an in for DBurns Agency to do what they do best and to grow the accounts from there. At the same time, they also needed to maintain creative control, and Zopto essentially allows them to decide for themselves what goes out where and when.