Industry: IT & Services
I highly recommend Zopto. It's user-friendly and the support staff is great. I can't find a single thing I dislike. I actually really enjoy the service and I'm thrilled that we've been able to find a tool that matches our needs. We've not been using it for long, but we already can't imagine what our lives would be like without it. It's the best kept secret in our industry, and I guess the only reason why we hadn't already heard of them was that no one wanted to lose their competitive advantage.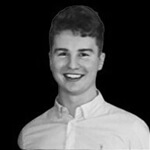 Sam Farrington
Business Development Executive
Customer story
Medius provides a dedicated spend management solution that's designed to empower businesses and employees to better manage cashflow and expenditure. Because of that, it often pays for itself, enabling companies to make huge savings by simply being more efficient and offering greater visibility into costs and expenses.
The company has been developing smart solutions for real-life challenges since 2001, and is known for its early adoption of powerful new technologies like artificial intelligence and machine learning. This allows them to stay ahead of the competition, and it allows their customers to stay ahead of their competition, too.
The challenges Medius are facing
The main challenge that Medius was facing was that they needed a way to get their company in front of potential customers. Once they're able to do that and to introduce what they do and how they can help, their product pretty much sells itself. The difficulty was being able to reach these prospects in the first place. They needed a tool that could help them to run targeted messaging in front of people with specific job roles and departments, and so LinkedIn made a lot of sense. The problem was that they needed something more powerful than the default LinkedIn tools and capabilities.
Why Zopto?
Medius prides itself on offering its clients a rapid return on investment from an easy-to-use solution. This makes them a natural fit for Zopto, as we do much the same thing. The difference is that Medius provides an ROI by cutting costs, while Zopto provides an ROI by bringing in new customers. The ethical similarities helped, of course, but they were mostly nice-to-have. The biggest reason why they chose Zopto was that it was affordable and it had all of the functionality that they needed.
Medius's growth and how Zopto plays a role
Zopto plays a key role in Medius' growth by helping them to reach out to potential customers and to capture their data. This allowed them to follow up with sales messages and to convert them into paying customers, driving the company's growth by ensuring that there was a steady stream of new customers. They could scale up and down to suit their needs and increase or decrease their budget on demand, such as if so many new leads were coming in that the company was unable to take on any more without expanding.