Richmond Club Wealth Management

Industry: Finance
Zopto does a great job of leveraging my time and helping me to make money. It helps us to pick up more clients with less time, effort and expense, and the customer service is also excellent. True, marketing campaigns run a little bit slower than I'd like, but that's a limitation of LinkedIn and not of Zopto. And the good news is that we've been able to reach prospective clients with Zopto that we've been unable to reach with our traditional email campaigns.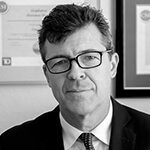 Greg Beckett
CEO & Chief Investment Officer
Customer story
Founded fifteen years ago by Greg Beckett, a Chartered Investment Manager (CIM), Richmond Club Wealth Management is all about helping clients to make smarter investments that pay greater dividends than traditional investments.
Greg uses his professional experience to select the best possible companies to invest in, identifying overlooked and undervalued companies that have high growth potential. He does this through a variety of analyses including global economic and sector trends, bottom-up, fundamental analysis and CEO interviews.
The challenges Richmond Club Wealth Management are facing
The biggest challenge that Richmond Club was facing was that they needed to reach out to potential investors who might be interested in boosting their savings portfolio by investing in the Richmond index. Richmond's index has grown at an average annual growth of 18.26% over the last fifteen years, showing an overall increase that's over eight times the average of the S&P 500. They knew that they could help potential investors, so the real challenge was to get their messages out in front of those people in the first place.
Why Zopto?
Richmond Club was initially attracted to Zopto because they needed a tool that could easily allow them to push their messaging in front of people who might be in a financial position to invest with them. They'd had some limited success with LinkedIn's own inbuilt tools, but they needed something more powerful that could allow them to reach out to people at volume.
Zopto was an affordable option that also had the advantage of being easy to use and requiring little-to-no training.
Richmond Club Wealth Management's growth and how Zopto plays a role
Zopto played a vital role in Richmond Club's growth by enabling them to generate leads at volume, effectively creating a limitless stream of potential new customers for the company and their sales team to follow up with. Richmond Club has already been growing for the last fifteen years, primarily due to word-of-mouth and through the high performance of their investments, but Zopto allowed them to grow faster while making the whole process easier and putting the company's destiny into their own hands.