Industry: Technology
We've been using Zopto for a little over three months and are really satisfied with the quality of the product. We've used other LinkedIn outreach tools in the past, but this one is definitely something else. To begin with, it's user friendly and cloud-based. LinkedIn generates most of our leads, so it's been wonderful to be able to rely on Zopto to help scale up our connections. Most importantly of all, it's easy to use and we can visually see the campaign's results.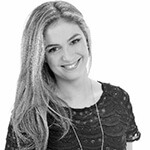 Jimena Sol Baliero
Business Development Manager
Customer story
Nearsure was founded to help US companies to enhance their software development teams with top talent. By being "remote first", they can cut down operating costs for their clients while connecting companies with the best developers from across South America. They're also able to keep their own internal costs low by keeping a lean organizational structure.
Their company spans thousands of IT professionals with skills across multiple different industries and technologies. They use a strict recruitment process, which has been refined and improved for over a decade, to ensure that their extensive network of developers consists of only the very best, with extensive quality assurance to make them the best option for nearshore staffing and outsourced software development.
The challenges Nearsure are facing
Nearsure knows software development, but marketing and lead generation isn't necessarily their strong point. On top of that, they're well aware of the power of outsourcing to the people who are best placed to get the job done. Once they had their marketing team in place, they realised that they needed additional tools to allow them to be as efficient as possible. In particular, LinkedIn was seen as a key source of leads, and so they needed something that could help them to automate and improve their LinkedIn outreach campaigns without breaking the bank.
Why Zopto?
For Nearsure, Zopto was the perfect choice because it ticked all of the boxes and allowed them to achieve what they wanted to achieve without breaking the bank, all without compromising on quality or control. Nearsure also picked Zopto because it's safer than other options, and they continued to use it because of the stellar support. In the client's own words, "You can really feel that there's someone to go to if you're experiencing any trouble."
Nearsure's growth and how Zopto plays a role
By using Zopto, Nearsure could ensure that their marketing team – whether we're talking about in-house talent or outsourced marketing specialists – had the tools that they needed to be able to generate leads at scale. Zopto was important here because it allowed them to level up their LinkedIn campaigns and to turn it into a profitable powerhouse of potential new business. Zopto fit in perfectly, helping them to use LinkedIn to bring in a steady flow of leads that their sales team could reach out to.