by Devanny | August 25, 2021
Internet users generate 2.5 quintillion bytes of data every single day. By 2025, there will be 150 trillion gigabytes of data to analyze. 
And while it's tough to picture how much data that actually is, it's easy to see there is a lot to be learned by gathering information on the internet. Not to mention endless information on potential clients just waiting to be reached out to. 
But who has the time to comb through all that data for lead generation? Manually looking for leads, collecting data, and turning it into a viable list of potential customers is time-consuming and a waste of valuable hours. 
That's where data scraping comes in. 
In this post, we'll show you what data scraping is, how to scrape data from LinkedIn (safely and legally), and how it will drastically boost your lead generation efforts. 
Already got a list of potential leads? Let's turn them into a steady stream of customers every month. Check out Zopto's free demo to see how it works. 
What Exactly is Data Scraping?
Web scraping will literally scrap the web for you, collect data you're looking for, and then structure that data into an easy-to-understand format. 
Web scraping services automate this process so it can be done on autopilot. Meaning you can automatically find the best leads (including all their publicly available information) and make your lead generation much faster.  
Why Should You Try Scraping Data from LinkedIn?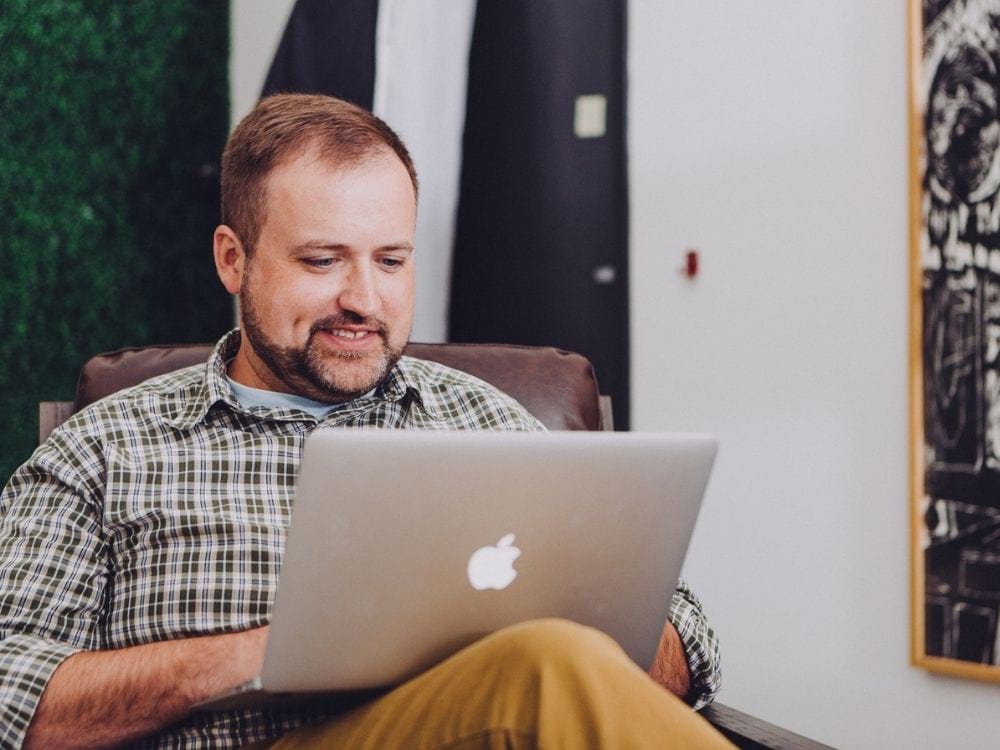 Scraping the entire internet for data is going to churn up generic information, even with the help of data scraping services. 
For B2B lead generation, focusing on LinkedIn for data scraping will yield much better results. This platform is full of high-level business executives and employees that make up targeted audiences in almost every B2B market. 
With almost 740 million users, 90 million senior-level influencers, and around 30 million companies, it's a gold mine of information to help you grow your business faster. 
Scraping data from LinkedIn gives you the opportunity to leverage all this data to create a tailored list of potential leads with all the information you need to create effective outreach campaigns. 
The real question should be, why wouldn't you try scraping data from LinkedIn?
What LinkedIn Has to Say About Scraping
This is where the waters can get a little muddy. Officially, LinkedIn isn't a fan of data scraping and discourages scrapers from the platform to protect user data and stop the space from being flooded with bad actors. 
However, it's completely legal to scrape public data from the platform. In fact, back in 2019, LinkedIn lost a Supreme court case against a San Francisco startup called hiQ Labs over the matter. 
After blocking hiQ Labs from scraping data for research purposes, the startup filed an injunction against LinkedIn which was upheld in the 9th US Circuit Court of Appeals. 
Basically, they ruled that people who make data publicly available on a social site don't have a reasonable expectation of privacy, and so data scraping wasn't violating any privacy rights.
This set a precedent that scraping publicly available user data doesn't go against the terms of service and so won't get you into trouble with the platform. 
LinkedIn Data Scraping Tools and Methods
When it comes to how to scrape LinkedIn, there are tools designed to make it much easier. Here are the top five currently being used:
1. Import.io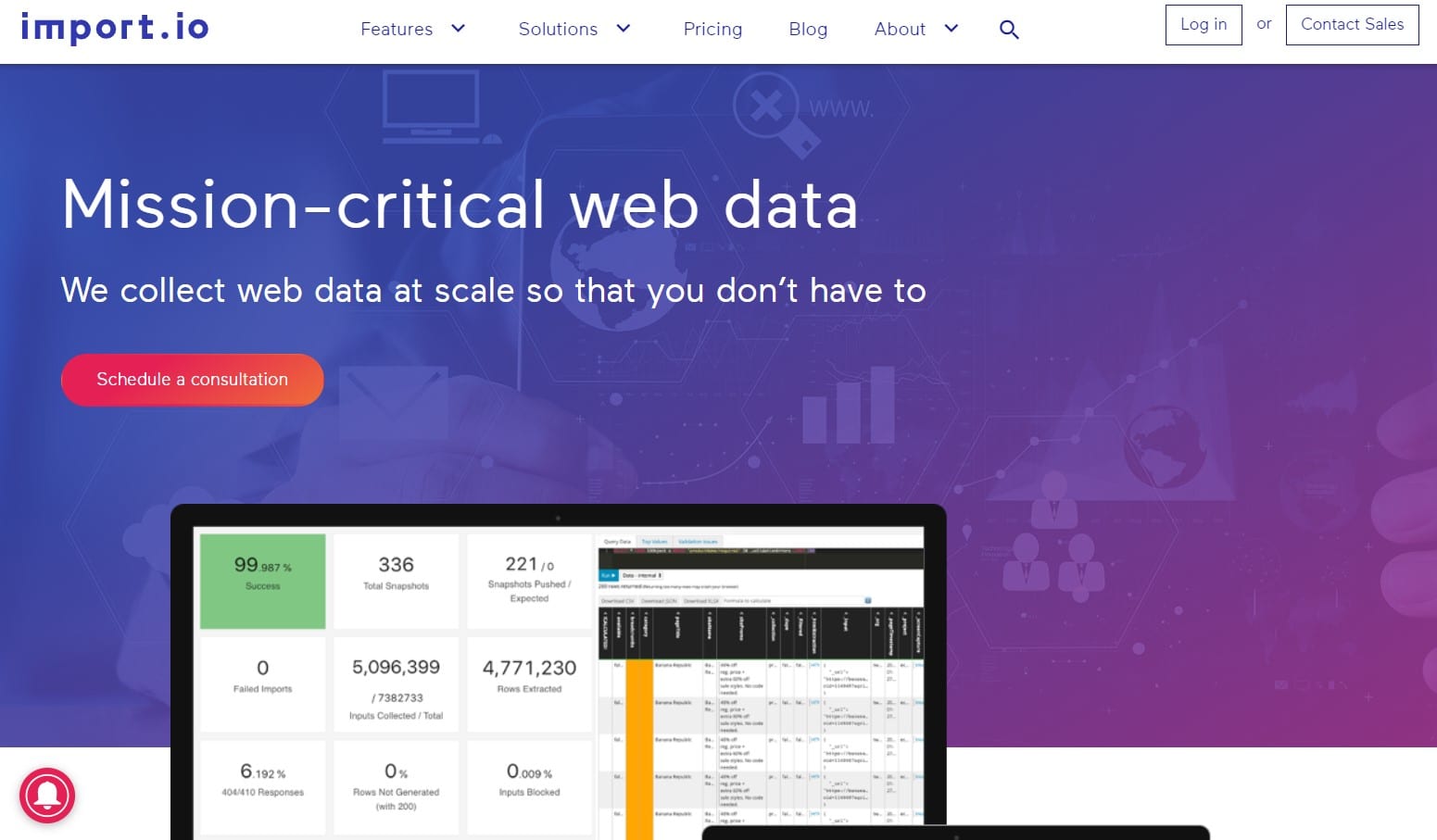 Import.io is easily one of the best scraping tools available. It extracts data and arranges it in CSV files, excel sheets and APIs, depending on what works for you. 
With customizable extractors and the ability to build your own, it gives you great control over the type of information you target. It also generates reports showing you the trends and changes on the websites you're scraping, which is a great bonus.
The price for this tool ranges from $199 to $9999 depending on the size of your organization, but there's a free trial to get started with. 
2. Scrab.in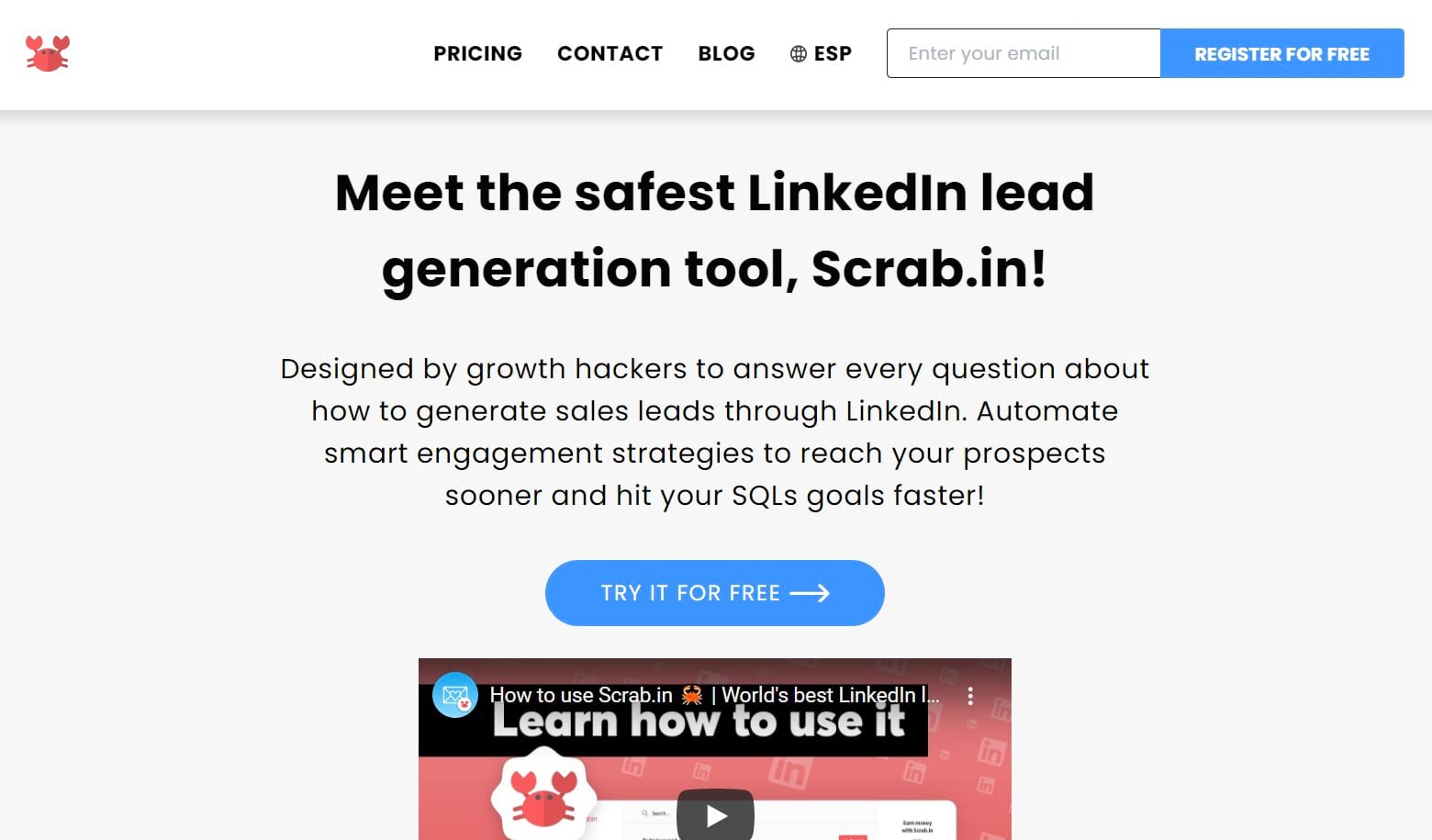 This one is a chrome extension and a popular lead gen tool for social media platforms in particular. 
It works with LinkedIn Sales Navigator to do targeted searches for specific data and then exports everything to a CSV you can seamlessly integrate into your outreach software. 
It's free to use for up to 800 scans and then just $9 a month for up to 1200, which is great for startups and small businesses looking to test the waters of data scraping. 
3. Octoparse
This scraping tool claims to mimic human behavior when scraping and uses multiple IPs to avoid getting blocked by any social sites. Data extracted is stored in the cloud so it's easy enough to transfer to your outreach software, but doesn't provide a CSV which is usually simpler to use. 
Plans range from $75 to $249 a month depending on the amount of data you want to export but there's a free version to try up to 10,000 exports. 
4. FindThatLead
FindThatLead is a LinkedIn profile scraper that focuses on extracting emails of potential leads so you have somewhere to send your outreach campaigns. 
The software has a full dashboard but also comes with a Chrome extension which does a bulk profile crawl to extract emails directly from LinkedIn whenever you're surfing and exports them directly to your dashboard ready to use. 
This one doesn't scrape any additional data though which does come in useful when you want to personalize your outreach campaigns. 
Prices range from $29 to $399 a month, but the free plan will generate ten emails a day which isn't bad as a starting point. 
5. Webscraper.io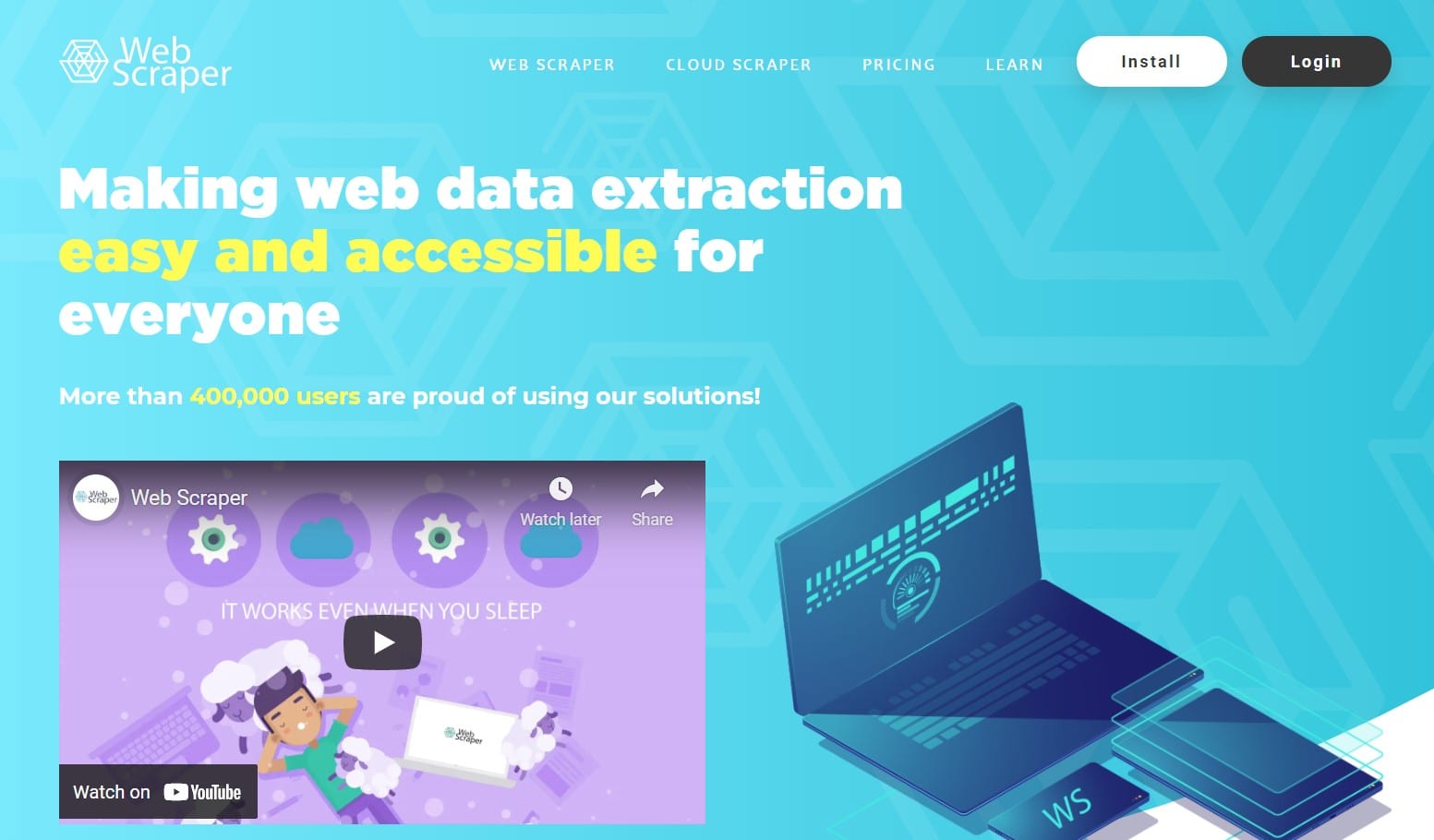 Web Scraper is the final tool on the list which is both a Chrome extension and a cloud-based data scraper.
It specializes in web page data extraction so will scrape for text, links, files, and more. It also allows you to create sitemaps to navigate different sites (including LinkedIn).
This tool works on credits, and pricing ranges from $50 to $250 for up to 2 million credits.
Scraping Data from LinkedIn Groups
Whatever LinkedIn scraper you decide to use, focusing on data from LinkedIn groups is a great strategy. 
You'll find multiple LinkedIn groups in any B2B vertical and they are packed with potential customers. Building and managing a list of leads from this goldmine of data is an easy way to get a warm list of clients who are perfect for your product or service. 
Not to mention you'll get far more detailed information from groups. Rather than just a name and email, you'll be able to scrap job titles, three top skills, company name, previous companies, and the different groups they're a member of. 
All of this additional information will help you personalize your outreach campaigns and make real connections with potential clients straight away. 
Scraping Data from LinkedIn Profiles
As well as groups, individual LinkedIn user profiles offer great information for your B2B lead generation. 
Whenever you visit a public LinkedIn profile, you can use any of the Chrome extension tools to automatically scrape names, email addresses, job titles, seniority, skills, industry – pretty much any information about the person on their personal or company profile. 
Once you've that information, lead gen becomes much quicker and more successful. 
How Scraping Data from LinkedIn can Boost Your Lead Gen
Scraping data is just the first step in your lead generation efforts. Once you've found a tool that works for your company and begin generating a list of potential leads, you can use this information to create much more effective outreach campaigns. 
From data scraping you'll not only have contact information such as name, email address, or phone number, but also have more in-depth information such as job title, skills, awards, etc. 
Using Zopto's LinkedIn automation tools, you can personalize your outreach messages using this demographic information. 
Rather than sending out the same generic emails to everyone and getting hardly any replies, you can automate personalized drip campaigns that will bring in a consistent stream of warm leads every month.
The best part is once you've integrated your list of potential customers you got from your LinkedIn scraper, the outreach process is incredibly easy to set up and totally automated. 
From your Zopto dashboard, you can easily see who you've reached out to, who has replied, and who you need to follow up with. 
It takes the time and effort out of outreach so you can focus on what matters – closing deals and providing the best service.  
Make Your Scraped Data Work for You
Scraping data is the easy part – once you have it set up, it will help you collect a stream of data. 
The key is making that data work for you and leveraging the information you extract. While a lot of B2B companies simply find contact information and cold email customers, the top businesses growing year on year know how to use this data more effectively. 
With Zopto, you get the opportunity to use your data much easier than ever before, giving you time to focus on more important stuff. Try out a free demo and start automating your campaigns today.
Browse By Topic

Attract hundreds of hot leads by targeting your ideal customers on LinkedIn!
Get Demo