by Devanny | July 20, 2021
Customer Relationship Management (CRM) is the fastest-growing SaaS industry. In fact, by 2025, it's projected to be worth $80 billion. 
From large, comprehensive systems with hundreds of integrations and marketing tools, to industry-specific software aimed at small B2Bs and startups, there are hundreds of CRM options on the market. 
Of course, no matter what B2B industry you're in, your CRM system needs to integrate with LinkedIn Sales Navigator to make the most of the tools available.  
Harnessing the power of LinkedIn Sales Navigator alongside your CRM means more leads, better outreach campaigns, and a better ROI for your sales team. 
If you're wondering which LinkedIn CRM integration is right for your business, this post will show you the top four options. 
Learn how you can manage your customer's journey through each stage, with our guide on Building and Managing a Sales Pipeline.
What is a CRM Integration for LinkedIn?
A customer relationship management (CRM) integration with LinkedIn allows you to scrape important information like names, job titles, organizations, website addresses, etc., and send all of it directly to your CRM system. 
Having this data sent automatically saves hours manually inputting data for leads and can be used for your outreach campaigns to boost replies and sales. 
Why You Should Integrate a CRM With LinkedIn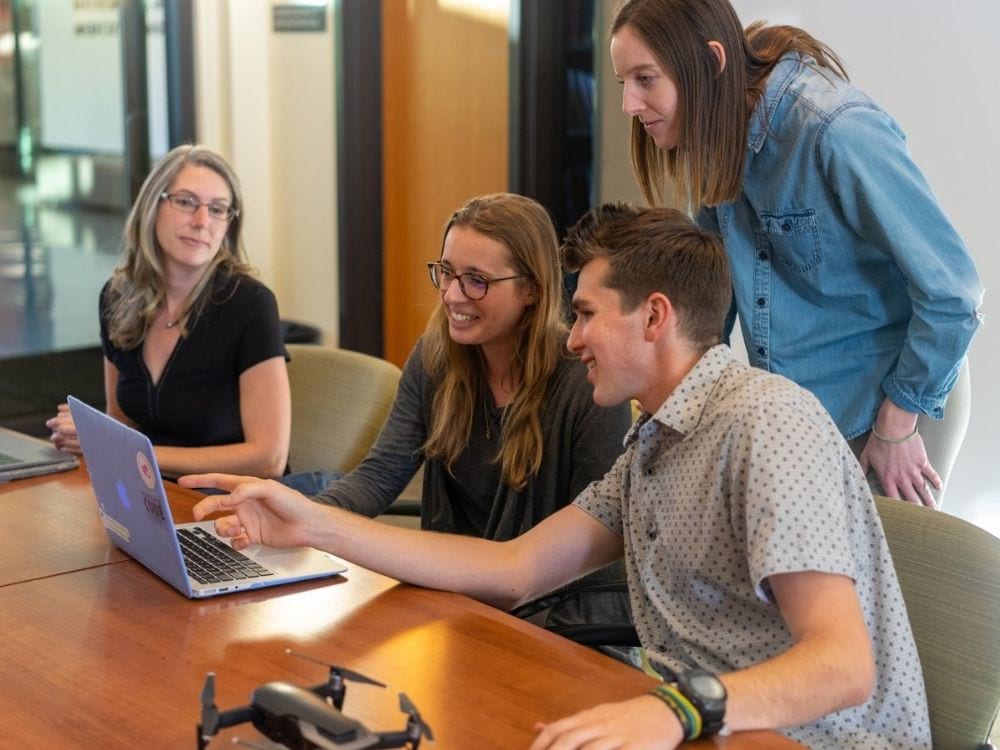 Integrating your CRM system with LinkedIn in particular has some crucial advantages…
The best social media platform for lead generation 
LinkedIn is home to over 30 million companies and 90 million senior-level influencers. When it comes to B2B lead gen, you won't beat LinkedIn for its quality of potential leads. 
It is the number one platform for Fortune 500 companies to network and promote, so it makes sense to use this site to gather information for your CRM system. 
Automated clean data capture
Manually adding data to your CRM is not only slow but mistakes are easily made. When you automate the process with LinkedIn, you not only benefit from the wealth of LinkedIn analytics, but information is correct and up to date for each lead. 
Rapid lead generation
Lead generation on LinkedIn using an integrated CRM system is as easy as finding a suitable lead and hitting a button on their profile. 
All of their public information will then be automatically sent to your pipeline and appear on your dashboard, saving you so much time manually inputting data. 
Detailed demographics
LinkedIn collates a lot of data on its users. From job title and seniority to awards and professional achievements, you can scrape detailed information to personalize your outreach. 
Knowing more about potential leads gives you the opportunity to stand out and show them you've done your research. People are much more likely to respond if you can connect with them on a more personal level. 
Better outreach campaigns
Once you have a curated list of potential leads and information about their professional life, your outreach campaigns can be much more personalized and effective.
Using Zopto, you can create high-converting email campaigns which plug in the data your CRM integration has scraped with LinkedIn account targeting, helping to automate almost the entire lead generation process. 
The result is a consistent stream of new client inquiries every single month, all from automated systems you can leave to autopilot.
How to Choose the Best CRM to Integrate With LinkedIn
There are hundreds of CRM systems available, and not all are created equal. If you don't already have one in place, here are some questions you need to ask yourself to narrow down the right software for your business:
Does the software have a LinkedIn integration? Not all systems integrate directly which can complicate the process. 

Who in your company is going to use CRM? How many users will need access? The price will vary depending on the number of accounts you need. 

What other software do you want to integrate with a CRM system? Make sure your chosen system has all the integrations you need. 

What is your budget? Prices vary massively depending on the quality of the system and the level of service you get. 
Top 4 LinkedIn CRM Integrations
If you want to invest in the best CRM system for your lead generation campaigns, here are the top four integrations that work with LinkedIn. 
Hubspot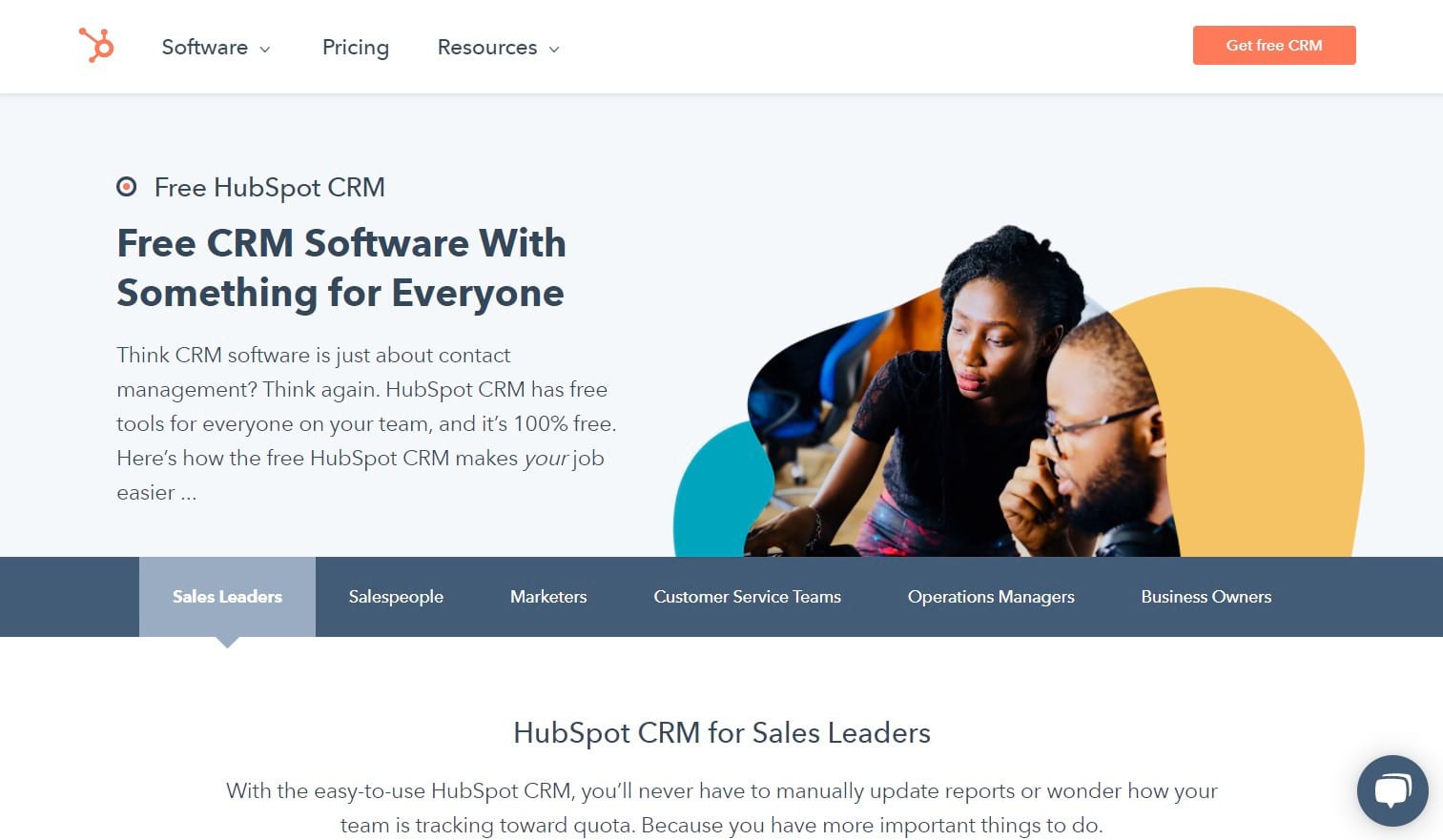 Hubspot is one of the easiest CRM integrations to navigate. It has a lot of free options, but if you want the LinkedIn integration, you'll need the Professional plan which starts at $450 per month. The enterprise plan starts at $1,200 if you need multiple accounts. 
You'll get sales tools, marketing automation, chatbots, and email tracking, among other tools that make this a great all-in-one CRM system. 
With this integration you can:
View and sort contact information including job title, company, location, and seniority

Filter by company information including industry, size, and location

Send InMail messages directly from your HubSpot dashboard
Pros:
Easy to set up and navigate

Wide range of sales and automation tools

Integrates easily with LinkedIn Sales Navigator
Cons:
One of the pricier options, especially if you need multiple accounts

LinkedIn integration isn't available on the free version

Marketing, sales, and customer service are all separate, could use better overlap
How to integrate Hubspot with LinkedIn
You'll need the Sales Navigator Team plan in LinkedIn (which is around $103 a year) and the HubSpot Professional plan. 
In the HubSpot app marketplace, find the LinkedIn Sales Navigator and connect. That's all it takes!
Zoho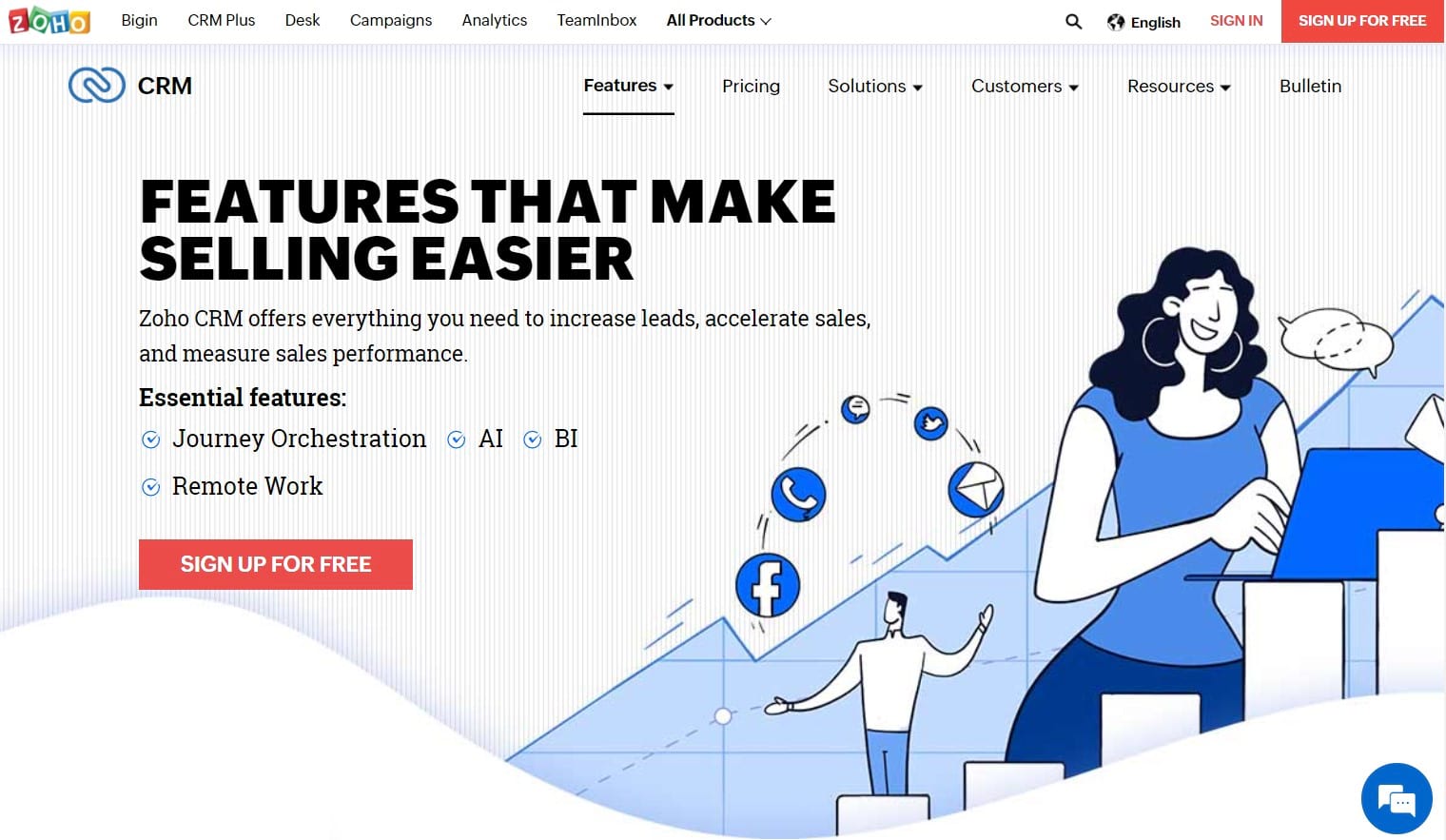 Zoho is another great CRM integration which allows you to find new leads and engage with them across multiple channels right from the Zoho dashboard.
This one has a free plan of up to three users which is great if you want to test it out, and the pricing plans are incredibly affordable with the enterprise plan being $35 per user per year.
Once set up, you'll be able to:
Import lead information for outreach campaigns

Find mutual connections

Find new leads using the Sales Navigator tools
Pros:
Free plan available for three users

Direct integration with LinkedIn Sales Navigator

Easy to navigate

Very affordable plans
Cons:
The mobile version lacks a lot of the pipeline visuals (better on desktop)

No 24-hour customer support, you can only reach them during normal business hours

The social media marketing integrations are a little complicated to set up
How to integrate Zoho with LinkedIn
Once you have LinkedIn Sales Navigator, the integration is fairly straightforward. You'll find the permissions for integration in your Sales Navigator and can enable the connection there. 
Salesforce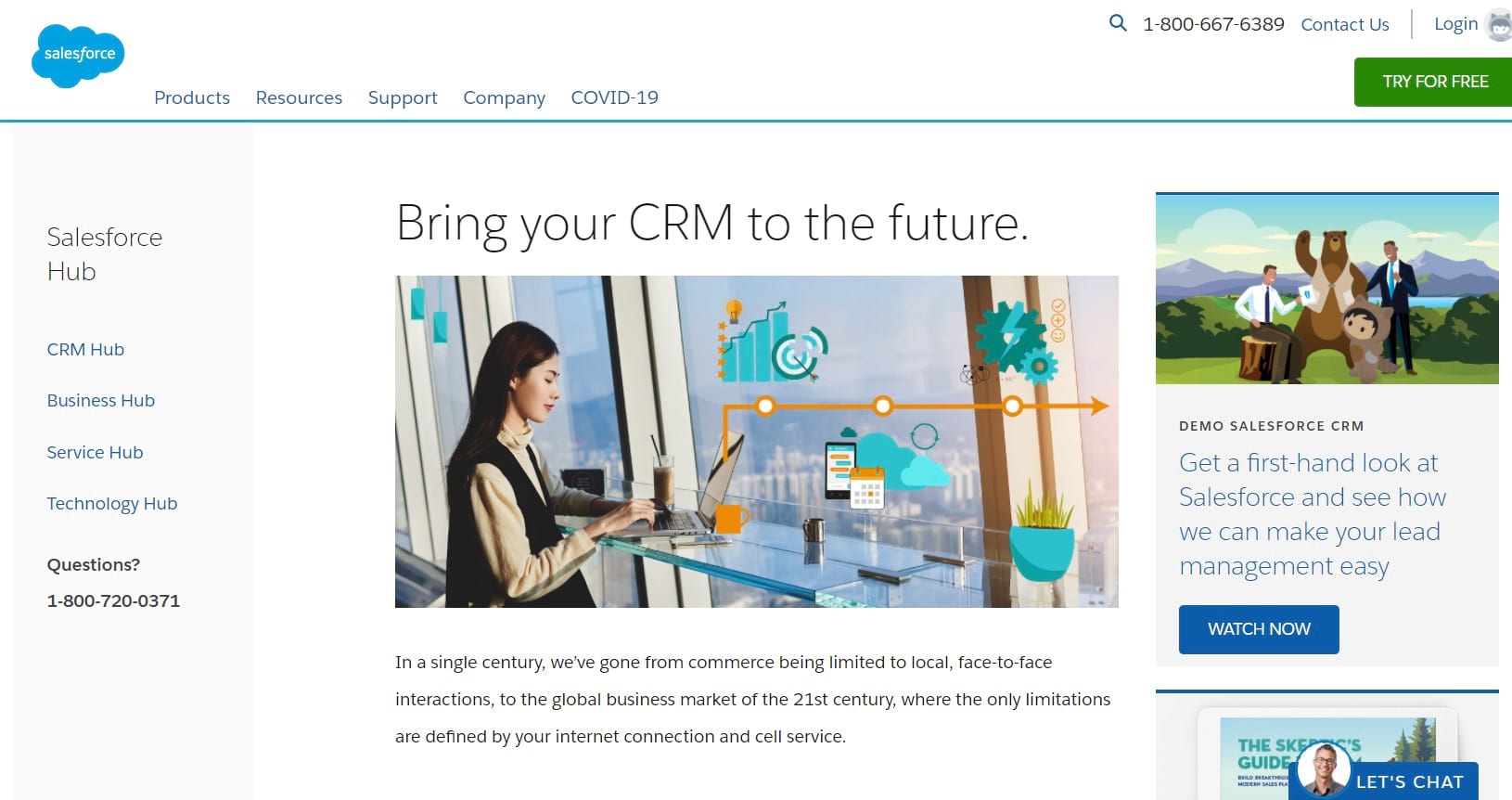 Salesforce is one of the most comprehensive CRM systems with hundreds of integration options. This does mean it's one of the more expensive options, but it is fully customizable and gives you much more control over the LinkedIn integration. 
For the professional plan, you'll pay $60 per user per month. Whereas the enterprise plan jumps to $120 per user per month.
Once set up, you can:
Viewing all profile information of your connections

See mutual connections and ice-breakers

Keep up with recent activity from connections such as job changes

Get lead recommendations 
Pros:
Large range of features and tools

Use of Salesforce's technology stack which is comprehensive

Totally customizable
Cons:
Set up with LinkedIn isn't as straightforward

More expensive than other plans
How to integrate Salesforce with LinkedIn
Depending on which plan you're on with Salesforce, they have guides to walk you through the integration process with either the Classic or Lightning experience. It does get a little technical, but the guides are good at walking through the process. 
Agile CRM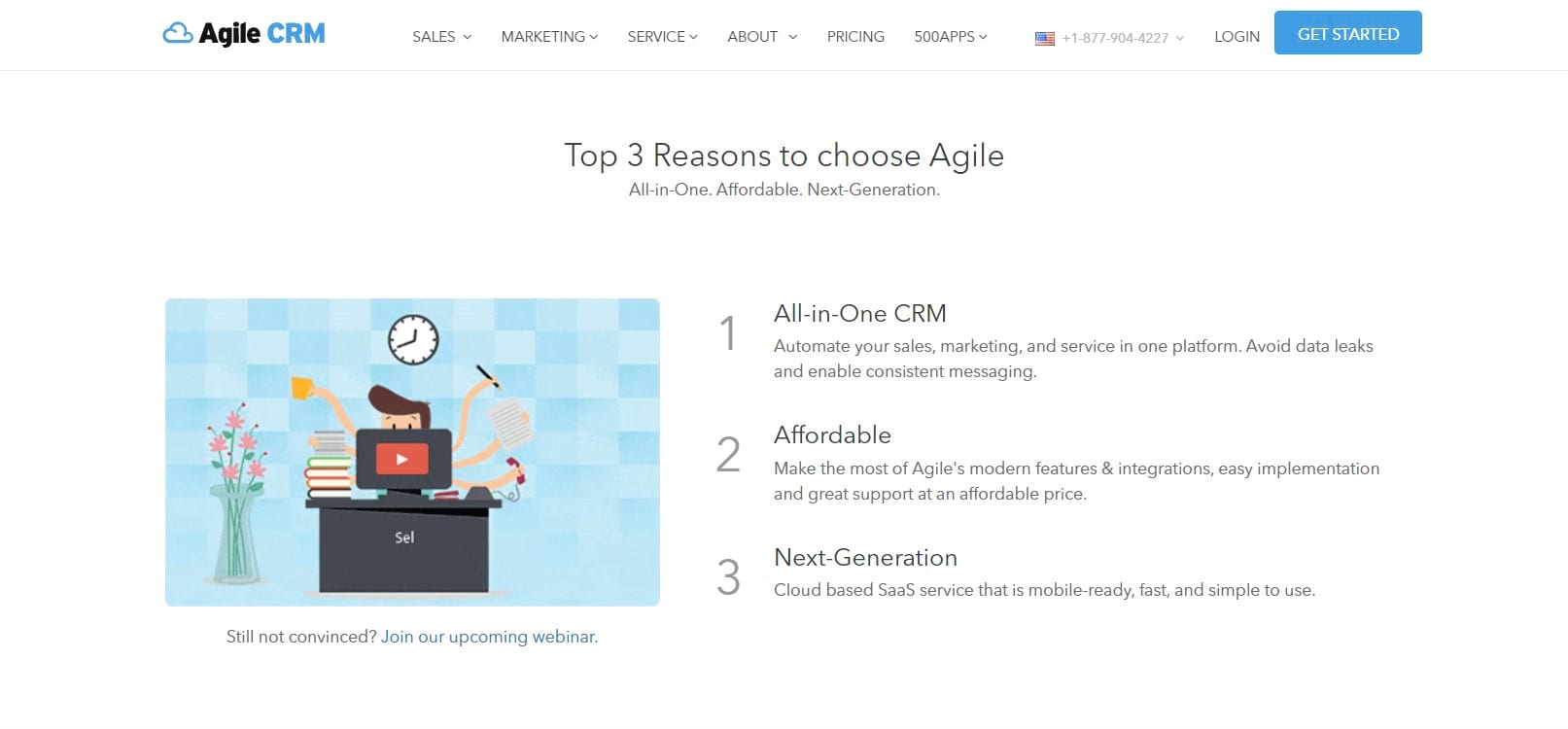 Agile is a great option for small businesses or startups looking for an affordable CRM option. Agile stands out with its built-in phone tools, including making and receiving calls, recording conversations, and accessing call reports. 
This is great for sales teams who primarily talk to leads on the phone and want to track calls. 
There is a free plan that has limited features to get started, but the higher-tier plans come with email templates, marketing campaigns, and a range of third party integrations. 
The enterprise plan is just $50 for two years, which is easily the most affordable CRM option. 
Pros:
Free plan for up to ten users

Very affordable enterprise plan

Phone capabilities

Marketing and automation tools
Cons:
No direct integration with LinkedIn Sales Navigator

Limited tools on free and low-tier plans
How to integrate Agile CRM with LinkedIn
There is no direct integration process with LinkedIn Sales Navigator, but it will connect with LinkedIn. You'll need a regular or enterprise plan to integrate with LinkedIn, and you will miss out on some of the more comprehensive tools of the sales navigator. 
However, you will be able to:
Viewing connection contact information in your CRM dashboard

Send messages directly to connections from Agile CRM

Get real-time updates about connections
Conclusion
Having a robust CRM system that integrates seamlessly with LinkedIn Sales Navigator will make your sales team much more effective. 
Not only will they save time prospecting information of potential leads, but they will also be able to personalize their sales outreach. 
That's the main benefit of integrating your CRM with LinkedIn – gaining deeper insights into prospects so your sales team can stand out and connect on a more personal level. 
No matter the industry, all customers are expecting this higher level of personalization which this integration can give. 
Before you integrate your CRM, you need to get leads. With Zopto you can automate your LinkedIn outreach and generate hundreds of hot leads per month, all on autopilot!
Does LinkedIn use Salesforce?
"LinkedIn, like many large corporations, uses a variety of tools to manage its operations, and this may include Salesforce for some aspects of their business. Salesforce is a robust CRM platform widely used for sales management, customer service, marketing automation, analytics, and application development. However, specific details about LinkedIn's internal systems and software usage are proprietary information, not publicly available.
As a platform, Zopto can integrate with Salesforce and other popular CRM tools. This allows you to seamlessly import your LinkedIn prospect data into Salesforce, helping you keep track of your leads and sales pipeline. Always remember, however, to respect the LinkedIn user agreement when interacting with the platform."
How do I link sales navigator to Zoho?
Sales Navigator integrates with Zoho CRM. You can view LinkedIn insights directly within the CRM interface after configuration.
How to use LinkedIn API in Python?
To use the LinkedIn API in Python, you would need to install a suitable library (like 'python-linkedin') and use it to make API calls. Remember to respect LinkedIn's due to length limits.
Browse By Topic

Attract hundreds of hot leads by targeting your ideal customers on LinkedIn!
Get Demo