Industry: IT & Services
Zopto is an excellent tool for making connections with people and organisations, especially with those who you might have thought you'd never have access to. It's very easy to set up campaigns and it all works as advertised, so what more could you ask for? The customer service is quick to reply and people are always very helpful. I've never had to wait more than 90 minutes to have an issue resolved.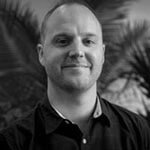 Adrian Clermont
Account Executive
Customer story
AFTIA Solutions was founded in 2015 by Richard McIlroy and Rodney Waugh, who saw a gap in the form and document integration market. At the cutting edge of their industry, they're known for hiring only the top talent and providing in-depth knowledge and subject matter expertise for companies that need help with forms and processes.
The company promises to provide organisations with accurate and applicable solutions that are designed to streamline processes for companies of all shapes and sizes. With a proven track record of success, they've already made waves in the five years in which they've existed.
The challenges AFTIA are facing
AFTIA has been growing steadily since their inception, but with most of their team focussed on servicing their clients, they've been struggling to find the time to dedicate to marketing and new business. At the same time, they had neither the budget nor the inclination to invest megabucks on a retainer for a marketing agency.
It was also important for AFTIA to create a lead generation system in which they could control the flow of leads in and out of the business. Too many leads too quickly could overwhelm their employees, while too few leads (or a lack of relevancy) would slow growth and potentially work against them.
Why Zopto?
AFTIA picked Zopto because they were an affordable LinkedIn automation tool that allowed them to reach out to their target audience en masse while running different campaigns for different types of customer. The fact that Zopto is cloud-based meant that it could be accessed on the fly by any employee with an internet-connected device, and it was so easy to use that everyone from their marketing interns to their CEO could pick it up and run with it.
Zopto also had an edge over other tools because of the account management that's bundled in by default. This ensured that any time one of AFTIA's employees had either a question or a problem, they knew exactly where to turn for support and information.
AFTIA's growth and how Zopto plays a role
Zopto allowed AFTIA to streamline their approach to marketing and to create more holistic campaigns, especially on LinkedIn. Because AFTIA is a business-to-business company, LinkedIn is one of the primary social networking sites that they're targeting, and Zopto essentially allowed them to run campaigns on the network much more effectively.
Zopto has also played an important role in taking AFTIA to the next step of their evolution as a company. At five years old, they're still relatively young, which means that there's plenty of opportunity for Zopto to further help shape the company's future.