Industry: Insurance
Let me save you some time. I've used all of the tools on the market, and this is the gold standard in LinkedIn automation. It's intuitive and easy-to-use with a great user experience, and their support is second-to-none. I've grown my LinkedIn network by 2x in a 90-day period, and most importantly I've grown it by connecting with key decision makers in the spaces I operate in the most. The precision that Zopto has to offer is uncanny!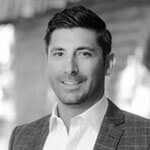 Michael Gazzano
PEO Specialist & Human Capital Leadership Consultant
Customer story
PEOs are professional employer organisations, and they typically work with small businesses to help them to cover administrative tasks. PEOBenchmark, then, does exactly what it sounds like – they help people to benchmark their PEOs and to see whether they're still in the business' best interests. Through discovery, analysis, procurement and implementation, they provide a comprehensive and unbiased evaluation of the best PEO solution for a company and its employees.
Founded by insurance industry veteran Michael C. Gazzano, PEOBenchmark is based in Scotsdale Arizona and works with a range of different companies from a variety of industries.
The challenges PEO Benchmark are facing
The main challenge that PEOBenchmark was facing was the challenge of bringing in relevant leads that they could turn into customers. They knew that they had a variety of different options available to them, but LinkedIn made sense because it would allow them to segment their audience based on important, business-based metrics such as industry or the size of the business in question. They also needed something above and beyond just the basic functionality of LinkedIn advertisements.
Why Zopto?
Zopto was the perfect tool for PEOBenchmark because it allowed them to set up targeted campaigns in minutes and to reach out directly to the people who could most benefit their business. For PEOBenchmark, the real challenge was finding an approach to LinkedIn advertising that would be sustainable, scaling up and down as needed and delivering a solid return on investment.
Zopto stood out in particular because it could act as a one-stop-shop, being the only tool that PEOBenchmark needed to manage their entire LinkedIn advertising campaign. At the same time, it was easy for them to pick up the tool and get started with no need for pre-existing expertise, saving the company time and money by streamlining the process as much as possible.
PEO Benchmark's growth and how Zopto plays a role
PEOBenchmark was already doing well when it came to servicing and retaining their customers, but they needed a much more efficient way of bringing new customers in. They knew that LinkedIn was the perfect source of leads, but they needed a tool that could help them to bring those leads in at scale. Zopto effectively bridged the gap, playing a vital role in the continued growth of PEOBenchmark by introducing their innovative business model to a willing audience.